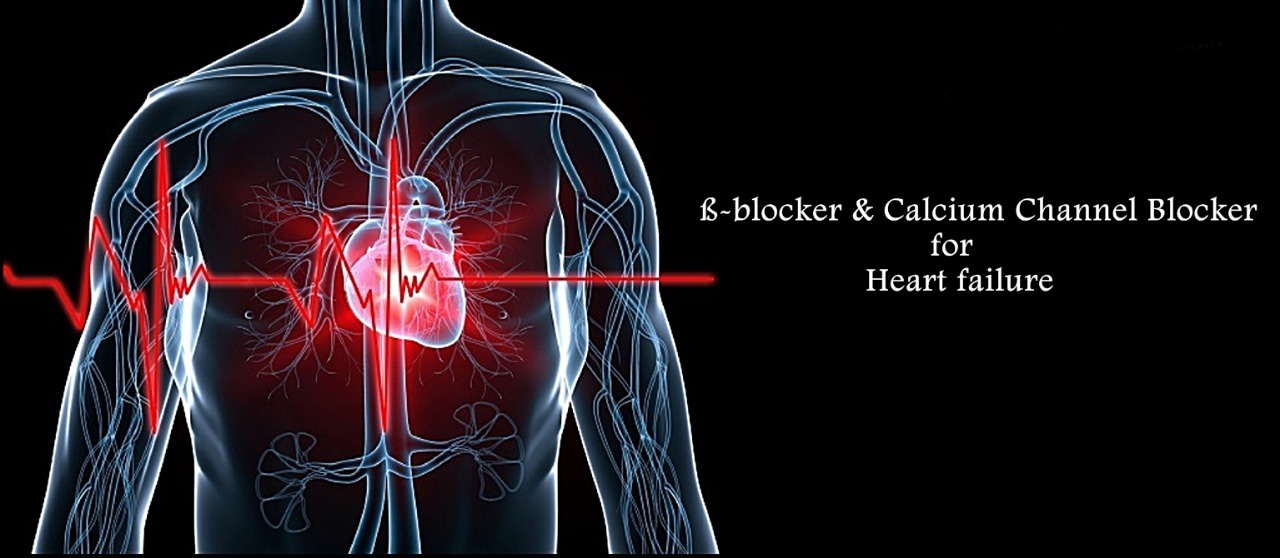 Beta blockers and Calcium channel blockers are prescribed to treat chest pain, abnormal heart rhythms, and high blood pressure. β-blocker works on veins and arteries to normalise the blood flow. A CCB (calcium channel blocker) is called a calcium antagonist, which is effective on arteries. It blocks calcium and maintains an easy blood flow. (1)
Role of Beta Blocker & Calcium Blocker
To define the role of β-blocker one needs to understand what is beta blocker?
Beta adrenergic blocker obstructs the chemical messengers of neurotransmitters; norepinephrine and epinephrine to bind with beta receptors inside the nerves. This dilates blood vessels to reduce blood pressure and heart rate.
Also Read- World Heart Day – 29th Sept
CCB is useful to dilate arteries in order to reduce blood pressure and let the heart pump blood normally. It prevents calcium from entering the cells of the arteries and the heart, therefore, prohibiting rapid arteriole contraction. This, in turn, relaxes the blood vessels through normal blood flow. It reduces the heart's requirement of oxygen and relieves angina or chest pain. Both these drugs complement each other in balancing cardiac health and prohibiting the risk of heart block. (2)
On which Health Conditions is CCB Applicable?
CCB is highly applicable on causes of irregular heartbeat and several other cardiac problems. Those are:
Coronary artery disease – It refers to the narrowing of artery atherosclerosis caused due to high cholesterol and fat deposition inside the artery. (3)
Angina or Chest Pain – Pain in the chest develops when oxygen-rich blood doesn't reach the heart. (4)
Arrhythmia – The condition when the heartbeat goes out of rhythm caused by a delayed electric impulse from the brain coordinating the heartbeat.
Along with CCB, angiotensin converting enzyme inhibitor is also used for the treatment of high blood pressure. It decreases the probability or risk of developing cancer due to prolonged use of CCB. ACE is a central constituent of renin that regulates the volume of fluid and blood pressure in the blood vessels. It also works on hemodynamic disturbance or hypertension in young patients. (5)
On which Health Conditions is Beta Blocker Applicable?
β-blocker is approved by FDA for treatment of  the following diseases:
Congestive heart failure – The blood pumping power of the muscles of the heart fails, which leads to fluid accumulation in the heart chamber.
Cardiac arrhythmia – It refers to irregular heartbeats.
Coronary artery disease – In this ailment coronary artery gets blocked.
Tachycardia – Heartbeat increases 100 beats per minute and causes rhythm disorder.
Hypertension – Rise in blood pressure.
Myocardial infarction – Heart attack by abrupt blood flow in heart muscles causing damage to cells and tissues.
Side Effects
The adverse effects of CCB are constipation, headache, edema, drowsiness, dizziness, rash, etc. Side effects of beta blockers are nausea, vomiting, stomach cramps, diarrhoea, blurred vision, sexual dysfunction, weight gain, etc.
A high dosage of beta blocker slows the heartbeat rate, increases the risk of heart failure, and worsens lung diseases.
Active Pharmaceutical Ingredients of Beta Blocker
Acebutolol (Sectral)
Atenolol (Tenormin)
Betaxolol (Kerlone, Betoptic S)
Bisoprolol fumarate (Zebeta)
Carvedilol (Coreg)
Esmolol (Brevibloc)
Metoprolol (Lopressor, Toprol XL)
Active Pharmaceutical Ingredients of Calcium Channel Blocker
Amlodipine (Norvasc)
Amlodipine and atorvastatin (Caduet)
Amlodipine and benazepril (Lotrel)
Amlodipine and valsartan (Exforge)
Amlodipine and telmisartan (Twynsta)
Amlodipine and olmesartan (Azor)
Medicines for Cardiac Diseases
The persistent availability of medicines for cardiac disease is important. Anzen Exports is committed to mining out the best active pharmaceutical ingredients manufacturers from India and exporting to clients. We value time and medicines means the world to us. Hence, we are dedicated to keep a consistent supply of our products to ensure that every patient gets the right medicine at the right time. Amidst a pandemic, natural calamity, and all other unnatural conditions, we are always regular with our service. To know more about our products and services, connect with our team today.
Disclaimer:
Anzen Exports' blog posts are based just on our research from cited websites. To be best informed, we advise consulting a doctor about an ingredient or medicine prior to taking it.
Sources:
Mayo Clinic
Website – https://www.mayoclinic.org/diseases-conditions/high-blood-pressure/in-depth/calcium-channel-blockers/art-20047605
Medicinenet
Website – https://www.medicinenet.com/beta-blockers_vs_calcium_channel_blockers/article.htm#what_is_the_difference_between_beta_blockers_and_calcium_channel_blockers
Cleveland Clinic
Website – https://my.clevelandclinic.org/health/diseases/16898-coronary-artery-disease#:~:text=Coronary%20artery%20disease%20is%20the,called%20plaques)%20inside%20the%20arteries.
Heart Organization
Website – https://www.heart.org/en/health-topics/heart-attack/angina-chest-pain#:~:text=Angina%20is%20chest%20pain%
Mayo Clinic
Website – https://www.mayoclinic.org/diseases-conditions/high-blood-pressure/in-depth/ace-inhibitors/art-20047480
Healthline
Website – https://www.healthline.com/health/acute-myocardial-infarction