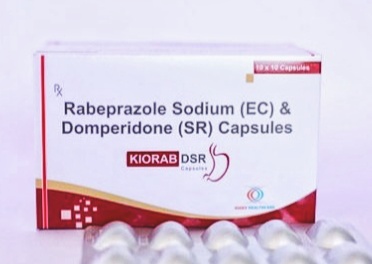 Rabeprazoletreats the symptoms of Gastro esophageal Reflux Disease (GERD) or
gastrointestinal disorder
. This is a generic drug that belongs to the class of anti-secretary compound or proton pump inhibitors (
PPI
). It readily decreases and heals the excessive acid formation in the stomach and
esophagus
. Hence, some major symptoms like heartburn, acid reflux, burning pain in the stomach, and problems with swallowing are relieved. Capsule and tablet are two oral routes of administration. Both are delayed-release or slowly released inside the body. The doctor prescribes this drug to adults and children as well (1).
Generic Name: Rabeprazole
Brand Name: AcipHex, AcipHex Sprinkle
Average: 359.443
Monoisotopic: 359.130362243
Chemical Formula: C18H21N3O3S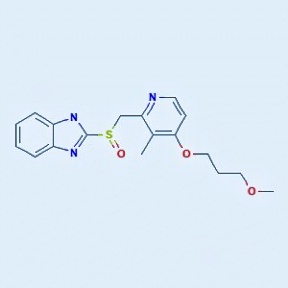 Diseases Cured & Dosages
Some common diseases cured by this PPI are as followings:-
Dose for adults-
| | | |
| --- | --- | --- |
| Disease | Dose for Adults | Duration |
| Zollinger-Elison Syndrome | 60mg tab/capsule twice daily | 1 year |
| H.Pylori Infection | 20mg tab/capsule twice daily with antibiotic | 7 days |
| Gastro Esophageal Reflux | 10mg tab/capsule twice daily | 12 weeks |
| GRD | 20mg tab/capsule once daily | 4 weeks |
| Duodenal Ulcer Prophylaxis | 20mg tab/capsule once daily | 12 months |
| Erosive Esophagitis | 20mg tab/capsule once daily | 4 – 8 weeks |
Dose for Children
For Pediatric Patients
Age
Weight
Dose
Duration
1-11 years
< 15 kg
5mg – 10mg
Max up to 12 weeks
1-11 years
> 15 kg
10 mg
Max up to 12 weeks
12 years/ Older
Variable
20 mg
Max up to 8 weeks
Consult doctor before taking any medicine.
How to Take This Drug
Don't crush or chew or split the dose form. Rabeprazole tablets can be taken before or after food (as advised by Doctor). Capsule or granules may be taken 30 min before taking food. Patients may open the capsule and sprinkle the granules on soft food that is at a colder or at room temperature. A small quantity of water may also be used to sprinkle the granules in the capsule. Within 15 minutes of preparation the entire dose must be consumed (3).
Mechanism and Action on Diseases
This druginhibits H+ /K+ ATPase or hydrogen-potassium adenosine triphosphatase pump that resides on the secretory surface of the gastric parietal cell. On the gastric parietal cell, Rabeprazole gets protonated, accumulated, and gets transformed into active sulfonamide. Hence gastric HCL production gets decreased. Rabeprazole dosage treats GERD by reducing acid reflux. It also controls the aggravation of peptic ulcers (4).
The concentration of the drug is absorbed in the body into two halves within1-2 hours and the first half gets absorbed. This drug gets metabolized in the liver and excreted by the kidney.
Highlighted Points about the drug
Rabeprazole cause a kidney disorder. Patients must inform the doctor, in case they feel any problem in urination or blood with urine when consuming Rabeprazole gastro-resistant tablets.
Also, the doctor must be informed, in case the patient gets diarrhea, lupus or skin rash while taking this medications,as these are signs of a new infection.
Patients with the following disorders must update the doctor before taking this medication:-
Liver disease.
Low bone mineral density or Osteoporosis.
Low magnesium level in the blood.
Low vitamin B12
A pregnant lady and nursing mother must take doctor's advice before taking this medicine.
Side Effects of Rabeprazole
Stomach pain or Diarrhea.
Joint pain
Kidney problem
Skin rash
Dizziness, irregular heart rate, tremors, jittery, spasm pain, and muscle pain.
Bleeding from nose, gums, urine, stool, etc.
Nausea, vomiting
Constipation
Extreme Reaction with Other Drugs
Following is the list of drugs, which may interact with Rabeprazole Sodium(5):-
Took More Than What is Prescribed
No problem if it is just one or two extra doses. However, if experiencing the following symptoms, patients must inform the doctor.
Flushed skin
Sweating
Skipped heartbeat
Drowsiness
blurred vision
What If Any Dose is Missed Out
In case the patient is on a single dose per day, and skips any dose then they must take the missed dose within a gap of at least 12 hours before the next dose.
In casethe patient is on double dose per day, and skips any dose then they must take the missed dose within a gap of at least 4 hours before the next dose.
In case the mentioned duration between the two doses is not maintained, then that missed dose can be skipped completely.
Patients are advised not to self-medicate and follow doctor's advice only.
Disclaimer:
Anzen Exports' blog posts are based just on our research from cited websites. To be best informed, we advise consulting a doctor about an ingredient or medicine prior to taking it.
Reference:-
Website -https://www.drugs.com/mtm/rabeprazole.html#:~:text=Rabeprazole%20is%20a%20proton%20pump,at%20least%201%20year%20old.
Date – 15th June 2020
Website – https://www.drugs.com/dosage/rabeprazole.html
Date – 31st Oct 2018
Website – https://www.drugs.com/dosage/rabeprazole.html
Date – 31st Oct 2018
Website – https://www.drugbank.ca/drugs/DB01129
Website – https://www.mayoclinic.org/drugs-supplements/rabeprazole-oral-route/side-effects/drg-20066981?p=1