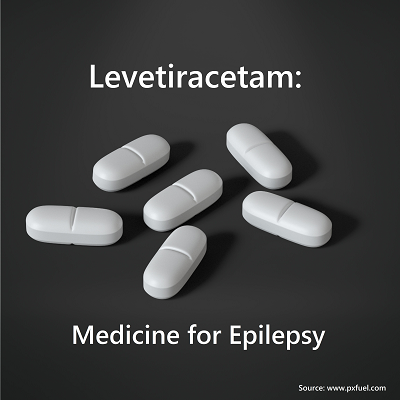 Levetiracetam
is the 
active pharmaceutical ingredient 
(API) present in antiepileptic drugs (
AED
). It is the generic name for the brand name drug, '
Keppra
,' which belongs to the class of drugs known as anticonvulsants or anti-epileptics. Doctors prescribe Levetiracetam to treat
seizures
(epilepsy) in combination with other seizure medications, as an add-on therapy for children and adults.
Who can get epilepsy?
Anyone can suffer from epileptic seizures at any point in one's life. It does not depend on age, race, gender, or social class. However, seizures are most common in children and adults over 65 years. About 1 in 100 people suffer from this disease. For example, half a million people in the U.K., and 2.3 million people in America have epilepsy (Epilepsy Society; CenterWatch).
What is epilepsy?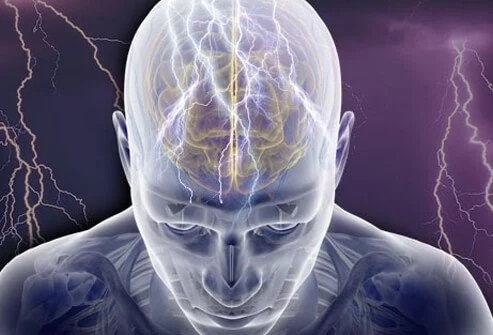 Epilepsy is a chronic neurological disorder characterised by seizures. Epilepsy is not just one condition, but, rather as a group of multiple 'epilepsies,' that originate in the brain. Most epileptics get seizures suddenly. However, how long they last and how bad they are vary. When seizures keep coming back, it is known as 'epilepsy' or a 'seizure disorder' (
Epileptea, WebMD
).
What is a seizure?
A seizure occurs when there is abnormal activity in the brain. This causes a burst of electrical activity that spreads uncontrollably to various parts of the brain. If these electrical impulses transmit to the muscles, it leads to twitches or convulsions, when the body shakes uncontrollably (Epileptea).
Seizures can go unnoticed, and sometimes they cause unconsciousness and convulsions. Not all seizures look the same. They can range from a little twitching of the arms and legs, blank staring, and stiffening up to shaking of the body, fainting and more (WebMD).
Types of seizures (Epileptea)
Did you know, there are at least 40 types of known seizures?
EEG can monitor the electrical activity in the brain during a seizure. This can identify the type of seizure and show where in the brain they originate. Seizures are categorised as generalized or focal, depending on where and how it started.
Generalised: Seizures that involve the entire brain.
Focal: Seizures that involve only one area of the brain.
Types of epilepsy Levetiracetam is used to treat  (Epilepsy Foundation):
Levetiracetam is a particularly effective epilepsy drug for treating focal (partial) seizures, generalized onset tonic-clonic seizures, and juvenile myoclonic epilepsy (Drugs.com).
What is levetiracetam 500 mg used for?
Levetiracetam tablets help prevent seizures. Doctors may prescribe it as an add-on therapy for epilepsy in children and adults, but epilepsy treatments usually begin with monotherapy. Adults are prescribed low initial doses, such as levetiracetam 250 or 500 mg twice daily. The dose can be increased by 500 mg twice daily, fortnightly, depending on how well it is tolerated (Epilepsy Foundation).
What is the right levetiracetam dosage*? (Drugs.com)
The oral doses of Levetiracetam are 250, 500, 750, and 1000 mg film-coated tablets. It is swallowed whole, twice a day, about 12 hours apart, with or without food. It is administered as an immediate or extended release formulation or by injection into a vein.
The best dose for you depends on the type of seizures you have, other medications you use, existing medical conditions, your age, as well as weight, in the case of juvenile epilepsy. In addition, your doctor may try more than one medicine or a combination of medicines to see the best fit for you.
To find out the different dosages for adults, children and renal patients, click here.
*Note: Not all seizure medicines work the same way and people respond differently to them. We recommend you follow your doctor's advice exactly and the dosage on your prescription for best results.
What does the drug look like? (RxList)
 Levetiracetam 250, 500, 750, and 1000 mg tablets are oval-shaped and come in various colours: 250 mg (blue), 500 mg (yellow), 750 mg (orange), and 1000 mg (white) tablets. Levetiracetam solution (100 mg/mL) is a clear and colourless liquid for oral administration.
The active pharmaceutical ingredient looks like a white powder. Its chemical formula is C8H14N2O2 and its molecular weight is 170.21. This is what levetiracetam looks like at the molecular level (ResearchGate):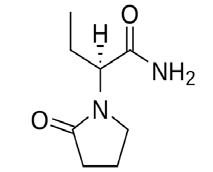 What levetiracetam tips should you follow?
(
Drugs.com
)
Take the prescribed dosage at the same time every day, with or without food.
Extended-release tablets should be swallowed whole, not crushed, or chewed.
Use the dosing syringe provided when giving it to a child or taking it yourself.
Follow the doctor's directions exactly. No more or less.
Do not suddenly stop using it. Usually doctors advise a tapering dosing.
Talk to your doctor if you feel depressed, have bad mood, or suicidal thoughts. Some people feel aggressive, anxious, or irritable.
Tell your doctor if you develop a rash or any adverse side effects.
What precautions should you take?
Inform your doctor before using epilepsy drugs, if you have ever had:
kidney disease or need dialysis
depression or mood problems
mental illness or psychosis
suicidal thoughts
Pregnancy:
Levetiracetam dosage can vary for pregnant women.
Inform your doctor as soon as you find out you are expecting.
Controlling seizures is very important during pregnancy for the safety of both mom and baby.
Note of caution:
Do not use if you are allergic to levetiracetam.
Do not use if you are breastfeeding as it may be unsafe while using levetiracetam.
Do not administer to a child without a paediatrician's advice.
What are the side effects of levetiracetam? (WebMD; CenterWatch)
Besides controlling seizures, the active ingredient, Levetiracetam may have some unwanted effects. Most patients tolerated the epilepsy drug but a few side effects occurred during trials, including:
drowsiness
weakness
infection (like sore throat)
dizziness
unusual changes in mood
Other side effects of anticonvulsants include:
Headache, irritability, aggressive behaviour or rage or hostility, hyperkinetic muscle activity, personality disorder, neurosis, anxiety, panic attacks, insomnia, and depression.
Avoid:
Suddenly stopping levetiracetam and other AED. Gradually decreasing the dosage will minimise the risk of withdrawal seizures.
Read the full list of levetiracetam side effects here.
Seizure Prevention Tips 
Patients often wonder, "How do I reduce my risk of having a seizure"? If you are susceptible to seizures, you should be aware of what triggers them. Here are some common triggers of epileptic seizures:
Missing medicine doses.
Lack of sleep.
Heavy alcohol use: It affects the rate your liver breaks down AEDs and decrease the blood levels of the medicine.
Using cocaine: Similar drugs, such as ecstasy are triggers.
Other medications: Ask your doctor about levetiracetam drug interactions.
Poor diet: Avoid tea, coffee, chocolate, sugar, excess salt, spices, soft drinks, and animal proteins. Seizures often happen after there is a drop in blood sugar from a sudden change in your body metabolism.
Food allergies: Certain foods, like white flour may trigger seizures in children who are allergic to them.
Nutrient shortages: Calcium deficiency may seizure triggers.
Heat: Hot and humid weather, hot showers, and especially sudden changes in temperature are triggers.
Watching TV and videos: Flashing lights, a bright screen, rapidly changing patterns and colours may also trigger seizures.
For about one out of every two women with epilepsy, seizures tend to occur more around the time of menstrual periods. Changing or adding certain drugs before menstrual periods can help (WebMD).
What do users say?
Read user feedback about the epilepsy drug levetiracetam with online ratings and reviews here.
What about drug interactions?
It is best to check with your doctor if you are taking any prescription or OTC medication.
Is levetiracetam generic?
Levetiracetam is available as both generic and brand name epilepsy drugs. The FDA approved the branded version, "Keppra" was first made by UCB Pharmaceuticals in 1999. "Levetiracetam Zentiva" is the epilepsy drug marketed in the U.K. In India, you can buy the generic epilepsy drug, Levetiracetam made by Dr Reddy's and "Levepsy" made by Cipla.
To get more information about or buy levetiracetam and other APIs (bulk drugs) from manufacturers and suppliers in India, contact Anzen Exports.
Disclaimer:
Anzen Exports' blog posts are based just on our research from cited websites. To be best informed, we advise consulting a doctor about an ingredient or medicine prior to taking it.
References:
"Common Epilepsy Causes and Seizure Triggers." WebMD, 6 Nov. 2008, www.webmd.com/epilepsy/guide/epilepsy-causes.
"Drugs & Medications." WebMD – Better Information. Better Health, www.webmd.com/drugs/2/drug-18053/keppra-oral/details.
"Keppra (Levetiracetam): Uses, Dosage, Side Effects, Interactions, Warning." RxList, 24 Oct. 2019, www.rxlist.com/keppra-drug.htm#description.
"Keppra: 7 Things You Should Know." Drugs.com, 24 Jan. 2020, www.drugs.com/tips/keppra-patient-tips.
"Keppra." Clinical Research and Drug Information | CenterWatch, 1 Nov. 1999, www.centerwatch.com/directories/1067-fda-approved-drugs/listing/3698-keppra.
"Keppra." Drugs.com, 6 Jan. 2020, www.drugs.com/keppra.html.
"Levetiracetam." Epilepsy Foundation, www.epilepsy.com/medications/levetiracetam.
"What Is Epilepsy?" Epileptea, 18 July 2018, epileptea.com/2018/06/20/what-is-epilepsy/.
"What is Epilepsy?" Epilepsy Society, 8 Jan. 2020, www.epilepsysociety.org.uk/what-epilepsy#.XkOeRGgzbIV.