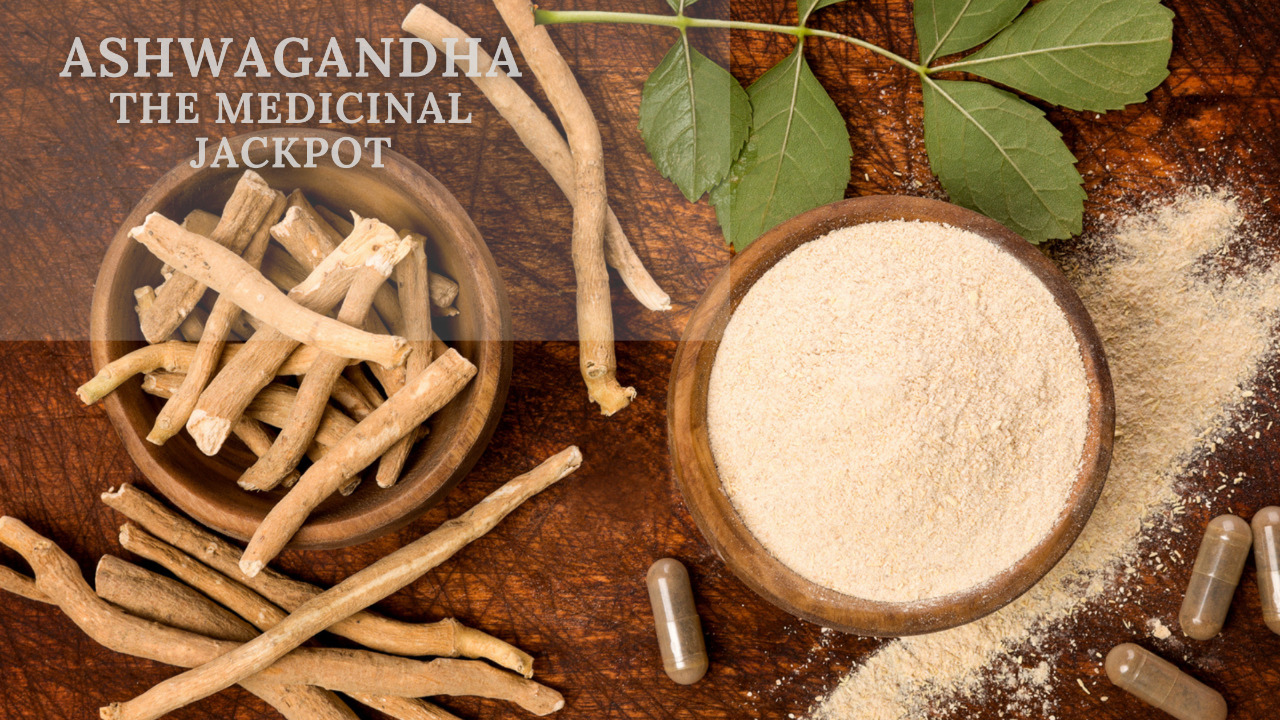 Aswagandha is a wonder herb that vitalizes, elevates, and restores health. Indian Ayurveda has been using this medicinal herb for more than 3000 years to reduce stress and anxiety. Ashwagandha benefits have both adaptogenic and anxiolytic effects, therefore, known as Sattvic Kapha Rasayana. It is a Sanskrit word, where Ashva means horse, and gandha means smell. This denotes the speed and strength of the horse. The root and the orange-red fruit of this plant are used for therapeutic purposes. Synonyms of this plant are Indian ginseng, winter cherry, or Withania Somnifera. It is a powerhouse of health benefits hence, optimal dosages can do wonders to recover from ailments. (1)
Revitalizes Endocrine & Nervous System
Traditional Indian medicine considers Aswagandha to boost stamina and restore the balance of dosha in the body. Dosha implies the life force, which is the primary basis of Ayurvedic treatment.
Indian ginseng stimulates the immune system and increases the level of glutathione peroxide and dismutase. These are two health-promoting antioxidants that augment the endocrine system and the nervous system. (2) Also Read – Top 10 Indian Herbal Extracts & Their Medicinal Benefits
Stress Relief
Aswagandha has anxiety-relieving properties that act as anti-depressants. It relieves stress and enchants mood, and reduces anxiety. Mainstream medicines for depression have an array of side effects. Therefore, as a herbal alternative, one may take this medicinal herb to reduce stress.
Treats Neurodegenerative Diseases
This medicinal herb provides brain & cognitive support. It regenerates the nerve cells, promotes the growth of dendrite, and regulates coordination between nerve cells, brain, and body. Hence, it is used for curing neurodegenerative ailments like Alzheimer, Parkinson, Bipolar Disorder, Schizophrenia, etc.
It induces deep sleep and removes drowsiness. This, in turn, boosts the memory and elevates the oxygen levels of the brain. This wonder drug, of the Solanaceae family, regulates the blood flow and pressure arterial system that maintains the nitric oxide (NO) production. NO retrogrades neurotransmitter for intracellular signalling in neurons. (3)
Pain Reliever
Aswagandha has anti-inflammatory properties and ceases the pain signal to reach the brain. It is often used in medicines for arthritis, joint pains, and inflammation related diseases. (4)
Cardiac Health
Withania Somnifera has an array of health benefits to promote heart health. It lowers high blood pressure and cholesterol, eases chest pain, and prevents heart ailments. It enhances cardiorespiratory endurance. (5)
Reduces Blood Sugar Level
It controls type 2 diabetes. Intake of aswagandha supplements lowers fasting blood sugar levels in a diabetic patient. It can also be taken as a precaution against insulin secretion and sensitivity. (6)
Enhances Sexual Vitality and Balances Adrenalin Hormones
Nitric acid boosting property improves fertility. It regulates the thyroid and adrenaline hormone that vitalizes sexuality.
Who Must Not Take Ashwagandha?
Pregnant and breastfeeding women must not take ashwagandha. Patients with hyperthyroidism or taking sedatives must consult a practitioner before taking this herbal medicine.
Dosage
Dosage varies from 250 – 800 mg per day for at least one month, based on the severity of diseases, age, and health factors. It is best to take advice from an Ayurvedic practitioner before taking this medicinal herb. (7)
Ashwagandha Extracts
Tablet, powder, capsules are various modes of administration of ashwagandha. The medicinal part of these products is ashwagandha extracts. Anzen Exports trades herbal and nutraceutical extracts across the globe. It supplies the best quality products in the most competent commercials. Under the leadership of Mrs. Minu Jajodia, the herbal unit has explored a wider horizon and has set a benchmark for the company. Connect with us today we get more information.
Disclaimer:
Anzen Exports' blog posts are based just on our research from cited websites. To be best informed, we advise consulting a doctor about an ingredient or medicine prior to taking it.
Sources: