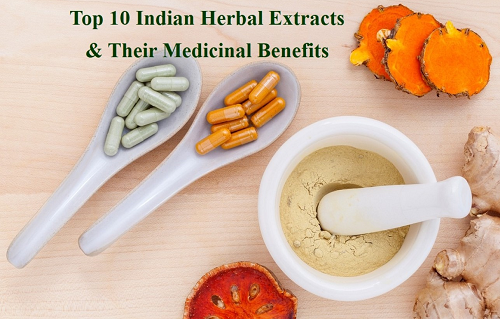 Indian medical plants and their herbal extracts are in hot demand!
India has one of the world's richest plant heritages. Our ancestors used medical herbs and plants centuries ago to cure common ailments with traditional Indian medicine. What is amazing is that today, more and more people everywhere are turning herbs and plants for cures, sometimes even choosing them over modern medicine. Indian medicinal plants and their herbal extracts contain key ingredients that have therapeutic properties.
We are in the midst of a shift in trend from synthetic to herbal medicine. Consumer demand is leaning more and more toward alternative medicine. The business of natural medicine in India is rapidly expanding. AYUSH (Ayurveda, Yoga, Unani, Siddha, Homeopathy and Naturopathy) is a $10 billion dollar market, and it is finding uses in other industries as well.
Herbal extracts in India are widely used in:
Pharmaceuticals
Nutraceuticals (dietary supplements)
Food & Beverages
Cosmetics
Other (personal care products)
By 2025, herbal extracts and phytomedicines are projected grow faster than any other plant extract segment. This is driven by the growth of the pharma industry and healthy eating trends. Another interesting trend is that the natural cosmetics industry, which is expected to grow the fastest in the segment (Research and Markets)
Herbal extracts market size is set to reach $ 18 billion by 2024, growing at a CAGR of 7.09% because trends indicating that 80% of the world's population already use herbal products in primary healthcare (Goldstein Research).
Why are herbal extracts so popular?
There are good reasons why Indian herbal extracts are in high demand globally. They are easier to consume compared to the whole herb or plant. The concentrated extracts are incredibly potent, so a tiny bit goes a long way. They are also more affordable and considered safer than prescription medications. Additionally, herbal remedies give consumers more choice. You can buy the whole herb, or take the capsules, tablets, infusion, syrup or tonic.
Here are ten popular herbal extracts that grow naturally in India and their health benefits.
1. Curcumin (Turmeric or Haldi)
Turmeric (Curcuma Longa) is native to sub-tropical South Asia, including India, which is the largest producer and consumer of the rhizomatous perennial herb. Ancient Indians used turmeric medicinally over 4,500 years ago. We still use the raw turmeric root to treat various gastrointestinal problems, and topically for cuts and burns. Modern medicine has recognised its importance as a natural medicine. Today, there are thousands of publications about the golden yellow spice used in everyday Indian cuisine.
Curcumin is the main active compound that makes turmeric such a powerful healer.
Health benefits of turmeric and curcumin:
Curcumin extract contains the medicinal compound, curcumin, which is used in pharmaceuticals, nutraceuticals, Ayurveda and Homeopathy. Nowadays, you can find it in every health store, from the raw turmeric root, capsules and supplements, to health drinks, juices, and herbal teas. Turmeric's antiseptic and antibacterial nature makes it a useful natural disinfectant, so you will find it is a popular ingredient in soaps, shampoos along with other Indian herbal products.
Curcumin extract can provide multiple health benefits. It is a potent antioxidant, anti-inflammatory, anti-mutagenic, antimicrobial, and anti-cancer.
Curcumin health benefits (Healthline):
Prevents blood clotting
Heals small cuts, wounds and burns faster
Fights depression
Reduces inflammation
Relieves arthritis pain
Manages type-2 diabetes and pre-diabetes
Relieves indigestion, gas, bloating, cramping, gall bladder problems
Regulates cholesterol
Fights cancer
Turmeric and curcumin may also prevent heart disease by increasing blood flow. One study further suggests that Turmeric can work anti-depressant, and is as effective as Prozac (Healthline).
2. Fenugreek Seed (Methi)
Fenugreek (Trigonella foenum-graecum) is the fruit of an annual herb native to SE Europe and India. Fenugreek plant history dates back to 4,000 BC when it was a favourite medicinal herb in Greece. Indians love cooking with methi. Both the foliage and seeds are edible and are basic ingredients in Indian curries and chutney.
However, not many people know methi regulates hormones and affects male sexual health. The active compound of the Epimedium herb is Horny Goat Weed, also known as barrenwort, bishop's hat, fairy wings, or 'yin yang huo'. Horny Goat Weed extract is used in aphrodisiacs and Traditional Chinese Medicines. It is a testosterone booster and gets its name from goats and sheep who became friskier after consuming Epimedium growing on fields.
Health benefits of fenugreek extract:
Ancient Greeks used fenugreek for a gamut of disorders from gas, dysentery, ulcers, coughs, tuberculosis, swollen glands, rickets, gout, diabetes, and even baldness! They also used it as an aphrodisiac and as a lactating agent (Gardening Know How Blog).
Fenugreek seeds are a rich source of plant steroids known as saponins, which prevent the absorption of cholesterol and triglycerides.
Fenugreek seeds are known to help with digestion and they have satiety benefits as well. Fenugreek has lubricating properties, which help to mollify the stomach. Fenugreek tea is used for relieving stomach pain and indigestion. Furthermore it also has a soluble fibre that helps to reduce cholesterol, to lose weight and to control blood sugar levels. (Sharma-NDTVFood)
Fenugreek health benefits (Herbwisdom.com):
Increases libido (used in aphrodisiacs)
Lowers blood sugar levels
Lowers cholesterol levels
Balances hormone levels (during menopause and PMS)
Slows down ageing and prevents disease (antioxidants)
Breast enlargement (due to saponin)
May reduce the risk of kidney stones
May reduce risk of colon cancer
May prevent breast cancer
Treats bronchitis, fevers, sore throats, wounds, swollen glands.
Helps digestion
Increase satiety
Lesser-known benefits: If fenugreek seeds are applied topically, it can soothe irritated dry skin, eczema, relieve gout, and muscle pain.
3. Indian Ginseng (Ashwagandha)
Indian Ginseng or Ashwagandha (Withania Somnifera) is native to India and North Africa. It is cultivated throughout the drier regions of India, especially Madhya Pradesh, Rajasthan and Kerala. The roots and leaves of the woody herb are often used in Ayurvedic medicine.
Health benefits of ashwagandha extract:
Ashwagandha is an adaptogen; it helps your body to manage stress better by lowering cortisol levels in the body. The herbal extract may also lower your blood sugar levels and even the risk of cancer.
Ashwagandha health benefits (Healthline):
Reduces anxiety and stress
Reduces symptoms of depression
Improves memory and concentration
Improves sleep
Improves muscle growth and strength
Increases physical energy and boosts immunity
Helps lower inflammation (arthritis, rheumatism, gout, ulcers, scabies)
Helps lower blood sugar (diabetes) and blood pressure (hypertension)
Helps lower cholesterol and triglycerides
Boosts testosterone levels and fertility in men
Lesser-known benefits: Ashwagandha twigs can also clean your teeth, and inhaling the smoke of the plant helps relieve a toothache.
4. Garcinia Cambogia
Native to SE Asia, central Africa, and India, where it grows naturally in the Western Ghats, the Kerala coast and Karnataka. Garcinia cambogia looks like a light green small pumpkin, and it is commonly known as the Malabar Tamarind, Brindleberry, or Kudampuli, The vitamin C-rich fruit rind is a popular element of South Indian fish curries in Kerala for its distinctive sour taste.
Hydroxycitric acid (HCA) is the main active ingredient in garcinia cambogia. HCA is extracted from the rind of the garcinia cambogia fruit. The powder extract is added to the finished forms, such as pills, liquids, and powder supplements.
Health benefits of garcinia cambogia extract:
Garcinia cambogia can help you lose weight with exercise and a diet of fruits, vegetables, and whole grains. HCA suppresses carvings by raising serotonin levels, but its main function is to prevent the body from producing fat. This increases your body's ability to burn fat and keep it off, without side effects.
Garcinia cambogia health benefits (Herbwisdom.com):
Boosts serotonin
Curbs food craving in over eaters
Prevents fat production
Lowers Body Mass Index (BMI)
Increase good cholesterol (HDL)
Decreases bad cholesterol (LDL)
Lowers triglycerides by 10-30%
Increases lean muscle
Lesser-known benefits: Altogether, the above elements can improve your overall health, boost energy levels due to weight loss, and elevate your mood.
5. Moringa Oleifera (Drumstick Tree)
Also known as the "miracle tree" or "tree of life", every part of the Drumstick tree is useful and valuable for overall good health. Moringa is a powerhouse of essential vitamins, minerals and 18 essential amino acids. Phytoactives like beta-carotene, chlorophyll, beta-sitosterol, luteinzeatin and caffeoylquinic make it an excellent superfood.
The leaves can be eaten fresh or dried and brewed as a delicious, healthy tea. Health stores stock moringa in the form of capsules or powder.
Health benefits of moringa oleifera: (Herbwisdom.com)
'Oleifera' means oil-containing in Latin, and the moringa seeds contain one of the most valuable plant oils. The magical moringa oil is the perfect beauty treatment. lt has antifungal, antibacterial, anti-ageing and antioxidant properties. The seeds also provide a boost of energy.
Boosts immunity
Lowers cholesterol
Heals minor cuts, burns, insect bites, rashes and skin infection.
Beauty sleep treatment (used in anti-wrinkle creams)
Prevents acne and dark spots
Helps in weight loss
Treats ulcers
Detoxifies the body
Purifies water
Lesser-known benefits: The all-round miracle Drumstick tree cures in astonishing ways. Moringa oleifera can help treat sickle cell anaemia and even HIV/AIDs! Moringa seeds are able to purify water, which is why they are used in natural antibacterial hand-washing soap.
6. Psyllium Husk
Psyllium seed husks (commonly known by the brandname 'Isabgol') are portions of the seeds of the plant Plantago ovata, which is native to India and Pakistan.
Psyllium is a trending topic among those who follow low-carb diets, such as the Keto diet, Paleo diet, and Atkin's diet. This is because it is difficult to get enough dietary fibre if you eliminate carbohydrates. Psyllium capsules are a simple way of dealing with this problem. It fills you with soluble fibre and fills you up, safely and simply.
Health benefits of psyllium husk: (Herbwisdom.com)
Psyllium is used in weight control and for general intestinal health. It contains a spongy fibre that cleanses the system, making it an excellent choice for healthy dieting. It is perfect for people who want to improve digestion and general intestinal health. Adding psyllium and other sources of fibre into your diet may also help with weight loss.
Improves digestion
Reduces gas and bloating
Reduces hunger pangs
Gives a feeling of fullness
Controls weight
Cleanses and detoxifies the digestive system
Reduces irritable bowel syndrome (IBS)
Helps patients with anal fissures
Helps with haemorrhoids
Useful during pregnancy
May treat ulcerative colitis and Crohn's disease (inflammatory bowel disorders)
Lowers total and bad cholesterol (LDL)
Lesser-known benefit: Scientists have recently discovered the soluble fibre psyllium husk has unique effects on metabolism.
7. Holy Basil (Tulsi)
If you belong to an Indian family, your mother and grandmother will tell you about the magical Indian basil or Tulsi leaf. Ancient Ayurvedic texts refer to it as the "elixir of life" and Indians believe the holy basil was the sacred plant of the Hindu gods. For thousands of years, Indians have worshipped and revered the herb, and for a good reason! Modern studies show the anti-ageing herb can protect organs and tissues against disease and infection by fighting chemical, physical, and metabolic stress (NCBI-PMC). Holy basil is popular in Thai cooking to add a stronger flavour, which gave it the name "hot basil".
The main bioactive compound extracted from the tulsi plant is known as Ocimum tenuiflorum or Ocimum sanctum. There is medicinal value in the tulsi leaves, stems, and seeds.
Health benefits of tulsi extract:
According to a recent study, tulsi has bioactive compounds, such as eugenol, which help lower blood glucose levels. Tulsi's antibacterial and antibiotic properties make it a powerful germicide and fungicide. This is why holy basil is a good herbal treatment for the common cold and flu and respiratory conditions.
Stress and Anxiety
Fever
Cold and flu
Diabetes
Asthma
Heart disease
Bronchitis
Nausea and indigestion
Dysentery
Diarrhoea
Genitourinary disorders
Headache
Back pain
Earache
Viral hepatitis
Malaria
Tuberculosis
Ringworm
Lesser-known benefits: Holy basil may contain chemicals that reduce swelling, pain, and inflammation and even work as a snakebite antidote!
8. Papaya Leaf
Most Indians love the Papaya fruit, which is native to tropical countries. However, it is the papaya leaf that is attracting attention for its fantastic health and skin benefits.
Like the fruit, the papaya leaf extract contains enzymes like papain and chymopapain, which helps digestion, prevents gas and bloating. Papaya leaves are also a rich source of many vitamins and minerals.
Health benefits of papaya leaf extract:
Dengue fever is a growing concern in India and papaya leaf juice is a common treatment for the mosquito-borne disease. The fever lowers the blood platelet count to dangerous levels; the papaya leaf extract can help increase the platelet count. (Sengupta-NDTV Food)
Treats dengue fever
Anti-malarial properties
Good for liver
Helps digestion
Lowers blood sugar levels
Cures Menstrual Pain
Helps treat skin problems
Promotes hair growth
Reduces risk of cancer
Lesser-known benefits: Besides digestion, it has powerful alkaloid compounds like karpain which prevent dandruff and balding.
9. Capsaicin (cayenne, chili and capsicum)
This article on Indian herbs would be incomplete without mentioning chillies. They are favourites for flavouring Indian cuisine where hot and spicy food is the norm. Cayenne peppers are red-hot chilli peppers and capsicum is the other name for the sweet bell peppers. However, not everyone can eat raw hot chillies or apply them on skin. This is why capsaicin creams use formulations with precise amounts to minimise the "hot" reactions caused by raw cayenne.
Capsaicin is the active compound of the Cayenne herb (Capsicum annum).
Health benefits of capsaicin extract
Capsaicin is a good herbal treatment for neuropathic pain and shingles pain. It is effective for pain associated with the nervous system or an inflammation, such as (Adams):
Chronic low back pain
Type-2 diabetes
Spine or brain injury
Some types of arthritis
Some types of headaches
10. Menthol (Japanese Mint)
Menthol is the extract that comes from the Japanese Mint (Mentha arvensis var piperascense) or corn mint. It is grown extensively in northern India. China and India are the main commercial cultivators of this aromatic perennial herb. Recently, India is the leading producer of this essential oil yielding plant. After distillation, the Japanese mint plant yields a high (75 to 80%) menthol content. The oil has a bitter, cooling taste, and a strong astringent smell.
Health benefits of menthol:
Menthol extract can fight the common cold. This is why menthol is an active ingredient in cough drops and related pharmaceutical products.
Natural menthol is particularly useful in the F&B and the flavour industry. It is also used in cosmetics, toothpastes, mouthwashes, and other personal hygiene products.
Take home message
Indians are becoming increasingly health conscious and want to live better, longer and disease-free. More people are eating healthy and buying organic food and using natural products. Organic herbs like ashwagandha root, fenugreek, raw turmeric, moringa and garcinia cambogia capsules, and powder are in hot demand. Indian herbal extracts are growing in demand because they are easier to consume than the whole herb or plant. In addition, herbal extracts in India are easy to add to food, beverages, tinctures, powders, lotions, and washes for healthier living.
If you want more information or you are interested in buying herbal extracts, contact Anzen Exports.
Disclaimer:
Anzen Exports' blog posts are based just on our research from cited websites. To be best informed, we advise consulting a doctor about an ingredient or medicine prior to taking it.
References:
https://www.marketsandmarkets.com/pdfdownloadNew.asp?id=942
https://www.prnewswire.com/news-releases/worldwide-plant-extracts-market-2019-to-2025-phytomedicines–herbal-extracts-segment-projected-to-witness-the-fastest-growth-driven-by-growth-of-the-pharmaceutical-industry–healthy-eating-trends-300893313.html
https://draxe.com/health/herbal-medicine/
https://www.businesswire.com/news/home/20190910005544/en/Indian-Plant-Extract-Market-2019-2023–
http://www.4to40.com/ayurveda/herbs/ashwagandha-withania-indian-winter-cherry-indian-ginseng/
https://www.verywellhealth.com/holy-basil-4766587
https://www.ncbi.nlm.nih.gov/pmc/articles/PMC4296439/
https://plantmedicines.org/cayenne-reduces-nerve-pain-shingles-pain/
https://food.ndtv.com/food-drinks/9-incredible-benefits-of-papaya-leaf-juice-1672318
https://food.ndtv.com/health/5-incredible-fenugreek-benefits-from-lowering-cholesterol-to-aiding-digestion-1395397