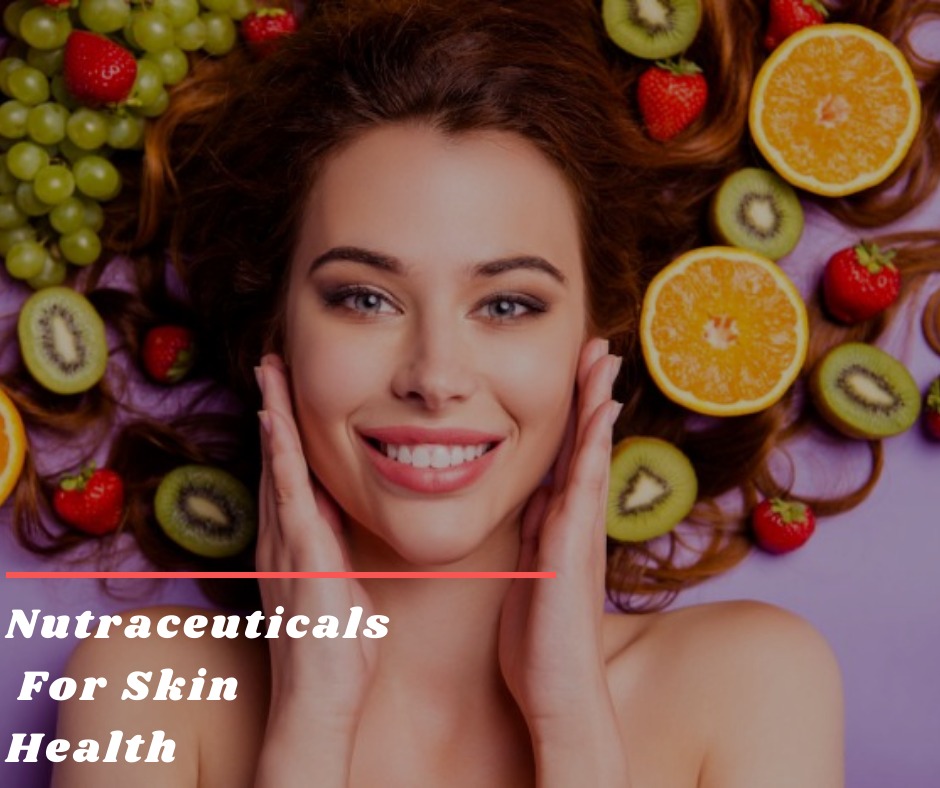 Nutraceuticals formulae and strategy have promising factors to alleviate skin aging and disorders. It is a consolidated form of nutrient and pharmaceuticals that administers added sustenance to the body.  Unlike other organs, the skin is the most sensitive and largest organ that protects the whole body from external intrusion. As a consequence, it suffers alterations like immune dysfunction, inflammation, and photo-aging. Skin health care is one of the most vital considerations for a healthy body. (1)
Proven Outcomes by Nutraceutical Ingredients
For skincare, nutraceutical benefits are highly proven. Its static resolution and biological relevance are credible for both dietary mode and topical application. Some of the most important ingredients used in this process are:
Bioactive peptides
Plant polyphenols
Vitamins
Probiotic microorganism
Various enzymes (2)
These nutrients protect the skin from aging, acne problem, inflammation, and chronic immune-mediated skin ailments like:
Atopic dermatitis
Psoriasis
Diabetes
Skin cancer
The nutraceuticals domain is expanding its experiment and efficacy in promoting healthy skin and enhancing innate vigor. It has a multitude of strategies and mechanisms to counteract adverse skin conditions. (3)  
Nutrients Mitigating Diseases
A diet rich in vitamins and antioxidants derived from various vegetables, and fruits maintain and repair skin health. Epidemiological evidence shows consuming these nutrients through food or any other supplements, like nutraceuticals, mitigates disease progression. The added therapeutic factors of nutraceutical progress skin health and nutrition. It has antioxidant, anti-microbial, anti-inflammatory, anti-cancer, and anti-proliferative factors, which stimulate cellular action to ameliorate ailments. (4)
Nutraceutical Tools Inspired by Nature
Anti-oxidative properties or metal chelating properties are some natural tools adopted by nutraceuticals for healthy skin aging. It inhibits the oxidative process and modulates advanced glycation end products (AGEs). These processes help in fighting against pathogens and protect the inflammation from any malignant factors. (5)
Apart from these, traditional nutraceuticals for skin wellness are natural derivative of whole food nutrient, which directly supplements the dietary intake. Through cosmetics and topical administration it benefits the body in various aspects.
Nutraceutical Extracts
The end product of nutraceutical involves the assimilation of nutraceutical extracts or core properties with therapeutic benefits that heals the ailment or recovers the deficiency. Like, Active Pharmaceutical Ingredients (API), nutraceutical extracts is the principal factor in this segment. Therefore, the quality, availability, and efficacy of this raw material are the determining factor behind the growth of this industry.
Worldwide, the demand for nutraceutical extracts is high as the market demand is rising deliberately with consumer awareness and mediation from mainstream medicine.
Anzen Exports is one of the active units in exporting nutraceutical extracts across national and international horizons. We have enlisted more than 25 ingredients under this category. It encompasses all highly required extracts to make finished products. Apart from that, our group companies are also dedicated to making nutraceutical dietary supplements and cosmetics marketed under their label. To know more connect with us today and explore the world of quality and economic API, nutraceutical extracts, and herbal extracts.
Disclaimer:
Anzen Exports' blog posts are based just on our research from cited websites. To be best informed, we advise consulting a doctor about an ingredient or medicine prior to taking it.
Sources:
NCBI
Website – https://www.ncbi.nlm.nih.gov/pmc/articles/PMC5946188/
NCBI
Website -https://www.ncbi.nlm.nih.gov/pmc/articles/PMC5946188/
Hindawi
Website – https://www.hindawi.com/journals/aps/2019/6908716/