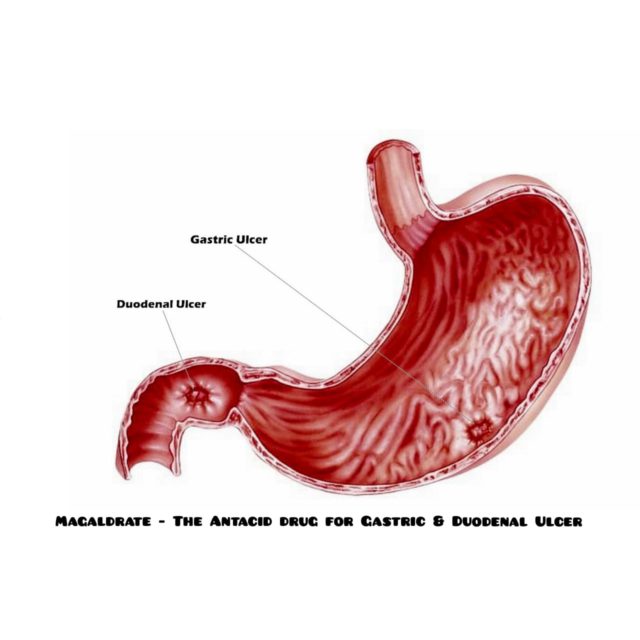 Magaldrate is an Active Pharmaceutical Ingredient (API) composed of aluminum magnesium hydroxide that is used in the making of the antacid drug. It is generally prescribed for hyperacidity or indigestion caused due to gastritis, peptic ulcer, peptic esophagitis, and hiatal hernia. Magaldrate dosage neutralizes the effect of acid irritant factors. It has a variable composition on the assay of dried basis.
Molecular Formula – Al5Mg10(OH)31(SO4)2, x. H2O
Molecular Weight: 1097.38 gm/mol.
Physical state – Crystalline powder
Solubility –Insoluble in ethanol and water. However, is soluble only in dilute mineral acid. (1)
Mechanism of Action
Magaldrate uses reduces direct acid irritant by increasing gastric pH and inactivating pepsin. It strengthens mucosal barrier integrity and makes gastroesophageal sphincter tone. The released aluminum hydroxide is more active in an unpolymerized state that initiates and sustains neutralizing action. (2)
Effective on Diseases
Contraindications
Aluminum in the Magaldrate formula of composition gets systemically absorbed, which may adversely affect the renal activity. Patients with renal disorders must avoid this medicine.
Other ailments in which this medicine should be avoided are:
Alzheimer's dementia
Block in intestine or stomach
Constipation
Diarrhea
Points to Remember
Before taking this medicine patients should consult a doctor and share previous medication details. For gastric ulcer treatment or any other ailment, this drug is not advisable to take more than 2 weeks without a doctor's advice. Administration of Magaldrate may deliver an unusual result in a certain diagnostic test such as CT scan, X-Ray, MRI with radioactive dye.
Side Effects
For any allergic pain or any symptom connect to your physician. Some common side effects are:
Stomach pain
Cramps
Severe nausea
Vomiting
Bone pain
Muscle weakness
Mood swing
Swelling of feet and palm
Allergic manifestation
Dark urine
How to take the medicine
One must strictly follow the direction as mentioned on the label or as advised by the doctor. For duodenal ulcer treatment and other diseases, Magaldrate must be taken 20 – 60 minutes after a meal and during bedtime.
Before taking the oral suspension it should be well shaken. For the best result, patients must take the exact dose as prescribed by the doctor. To ensure the correct dose, one may use a medicine cup or measuring spoon, and not the regular kitchen spoon. Overdose may induce stomach problems or diarrhea.
Interaction:
With the following drugs, Magaldrate interacts strongly:
Sodium polystyrene sulphonate
Iron
Oral antidiabetic medication
Digoxin
Dosage
5-10 mL, i.e. 1-2 teaspoon is an advisable dose for adults. More than 80 mL in 24 hours is harmful to administer. (4)
Anzen Exports and API
Anzen Exports is one of the renowned companies in India for exporting good quality API nationally and internationally. Envisaged by Mr. JK Jajodia, we are catering to this industry for the last 29 years. One of our top 10 products is Magaldrate that is highly used in the making of antacid drugs. Our range of products serves API for all categories of medicines, and veterinary drugs, nutraceutical extracts, herbal extracts, and organic oils. For more details browse our website, connect with the sales team, or send us an enquiry.
Disclaimer:
Anzen Exports' blog posts are based just on our research from cited websites. To be best informed, we advise consulting a doctor about an ingredient or medicine prior to taking it.
Sources: