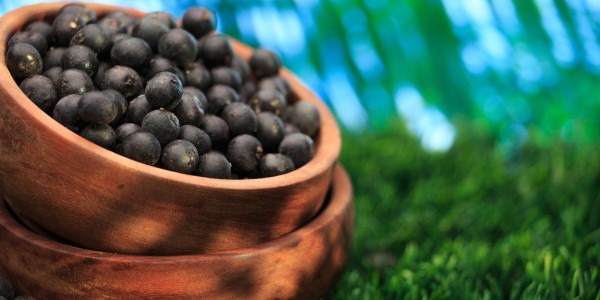 Acai berries are a grape-like fruit originating in South American rainforests on acai palm trees. The purple fruits have a diameter of 1 to 2 centimetres (cm) and almost 80% of it is made up of seeds. Acai berries have been described as tasting like a combination of chocolate and berries, with a subtle metallic aftertaste.
Acai berries are known as a super food item but not all of its benefits are proven scientifically. With its high quantity of vitamins, antioxidants, and nutrients, the acai berry nourishes the skin by deeply hydrating and revitalising it. Vitamins A, C, and E, as well as omega-3, -6, and -9 fatty acids, are abundant in this fruit.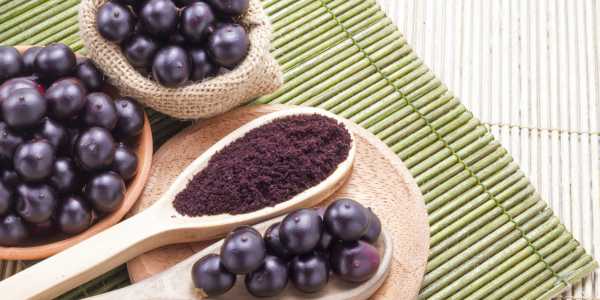 HEALTH BENEFITS
Cognitive Function: Alzheimer's disease and Parkinson's disease are age-related brain disorders with no cure, but research suggests that eating a diet high in antioxidants and
anti-inflammatory polyphenolic chemicals may reduce the risk of both diseases. The antioxidant anthocyanin, which is found in acai berries, may help to reduce oxidative stress and inflammation, which is good for brain function.
Heart Health: Acai berries may benefit heart health due to their antioxidant characteristics.These may be especially beneficial to persons with metabolic syndrome, a group of disorders that includes high cholesterol and triglyceride levels and increases the risk of heart disease and diabetes.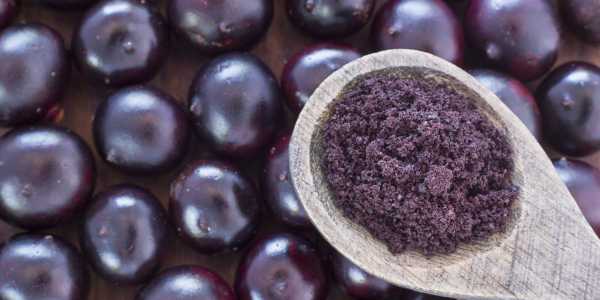 NUTRITIONAL VALUE
According to the United States Department of Agriculture (USDA), one 3-gram teaspoon of acai berry powder contains:
Acai berries contain 19 amino acids and many sterols, including campesterol, stigmasterol, and beta-sitosterol, despite their low total protein content. Acai berries are high in anthocyanins and proanthocyanidins, which are phytochemicals.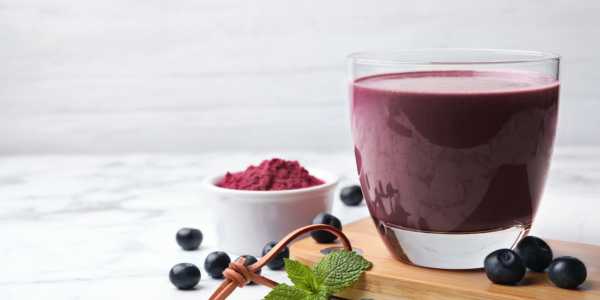 BENEFICIAL FOR SKIN
Acai berry is one of the most powerful substances for fighting free radicals, which are formed as a result of pollution, stress, and other detrimental environmental factors, owing to its high antioxidant content. The antioxidants in the açai fruit also aid in the efficient absorption of nutrients by the cells.
They're a good source of Vitamin c, which is a powerful anti-inflammatory, so anyone with acne or discomfort should stock up. Acai has been shown to help reduce inflammation, so you may notice a significant change in red, inflamed skin whether you apply it topically or eat it. The zinc content is also beneficial: zinc aids in the healing of wounds, particularly acne breakouts. These berries also act as a brilliant anti-aging agent with its richness of Vitamin A and C. Collagen, also known as the skin's building block, is responsible for our skin's bouncy, plump, and revitalised appearance. Collagen production is stimulated by acai berries, which moisturises, tightens, and firms the skin. Magnesium, found in acai berries, helps to regulate cell regeneration and skin restoration.
If that is not enough, acai berries also contain potent anti-aging vitamin A, which boosts cell turnover, and brightening vitamin C, which boosts collagen production for a full, firm complexion. Essential fatty acids like Omega 6 and 9 that smooth and soothe your complexion made from acai pulp oil is the perfect ingredient to add to skin products.
CONCLUSION:
Thus concluding, Acai's skin advantages include the antioxidants, vitamins, minerals, and other nutrients that work together to protect the skin from pollution and other toxic elements that cause skin damage. Not only that, but all of the fatty acids are regarded as building blocks for collagen, the skin's connective tissue that keeps us firm and taut, making acai's skin benefits incredibly potent and appealing.
Encouraging healthy living
Anzen Exports Pvt. Ltd. is a renowned Indian exporter of Active Pharmaceutical Ingredients, nutraceutical products, herbal extracts and nutricosmetic to over 500 companies in 70 countries worldwide. We procure these medicinal components from top-notch manufacturers and supply them to top drug-making companies.
Lactis supplements are a part of our wide array of products. Check our product page for a complete product list and send us an enquirythrough the form available on our website or connect with our sales team.
For more details, visit www.anzen.co.in
Disclaimer:
Anzen Export's blog posts have been written with the information gathered from approved medical journals and websites online. Our research and technical team strives to provide relevant information through such articles. To be best informed, we advise consulting a doctor about an ingredient or medicine prior to taking it.
REFERENCES :
 https://www.evolvebeauty.co.uk/blogs/news/benefits-of-the-acai-berry
 https://www.medicalnewstoday.com/articles/305576#nutrition
 https://timesofindia.indiatimes.com/life-style/beauty/how-acai-berry-prevents-early-signs-of-aging/articlesh
 https://www.herbaldynamicsbeauty.com/blogs/herbal-dynamics-beauty/acai-benefits-for-skin-a-warrior-in-t