Amoxicillin is an antibiotic. It is a semi-synthetic derivative of Penicillin. Predominantly, the antibiotic encounters a wide range of gram-positive and gram-negative bacteria. Infection in the chest (lower respiratory tract infection or pneumonia), urinary tract, stomach, eye, ear, nose, throat, skin, dental disorders, and ulcer are some diseases curable by this medicine. Amoxil is available in the market as a capsule, tablet, and powder (1).
 Chemical Formula – (2S,5,R,6,R)-6-[(,R)-(-)-2-amino-2-(p-hydroxyphenyl)acetamido]-3,3-dimethyl-7-oxo-4-thia-1-azabicyclo[3.2.0]heptane-2-carboxylic acid trihydrate.
Molecular Formula – C16H19N3O5S•3H2O.
Molecular weight – 419.45.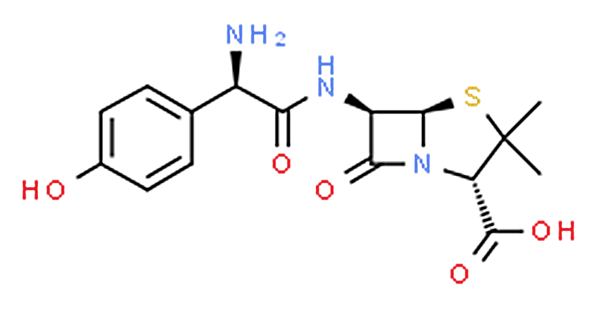 Solid Dosage Forms Available in Market
Capsule – Capsules are found with 500 mg of Amoxicillin as a trihydrate in an opaque blue cap and a pink body. They also contain some other inactive ingredients.
Tablets – Tablets contain 500 mg or 875 mg Amoxicillin trihydrate. They are coated with films and come in a pink color. The 875 mg of Amoxicillin tablets have a score on the reverse side of the tablet.
Chewable Tablets – 200mg or 400 mg of Amoxicillin trihydrate are the available doses in cherry, banana, peppermint flavors.
Powder form for oral suspension – A 5ml of reconstituted suspension has either 200, 250, or 400 mg of Amoxicillin trihydrate.
Drops for oral suspension – This is generally prescribed to the pediatric age group. 1 ml of reconstituted suspension contains 50 mg of Amoxicillin trihydrate. It is important that the correct amount of water is mixed to dilute the solution.
Details of Diseases Amoxicillin Cures
Amoxicillin is taken for the treatment of diseases caused by various bacteria (2):
It is widely used in India for chest and urinary tract infections.
How to Take This Medicine
 Always take the medicine as prescribed by the doctor. It is best to take this drug at the same time every day with an interval of 8 to 12 hours in between doses and to have the medicine with food. For oral suspensions, one should carefully measure the dose before having it (3). These are the recommended doses for the most common infections:
DOSAGE DETAILS
INFECTION
SEVERITY
DOSE FOR ADULTS
DOSE FOR CHILDREN > 3 MONTHS
Infection in Ear, Nose, Throat, Skin, and Genitourinary Tract
Mild to Moderate
500 mg antibiotic at an interval of 12 hours or 250 mg antibiotic at an interval of 8 hours
25 mg/kg/day at an interval of 12 hours or 20 mg/kg/day at an interval of 12 hours
Severe
875 mg at an interval of 12 hours or 500 mg at an interval of 8 hours
45 mg/kg/ at an interval of 12 hours or 40 mg/kg/day at an interval of 8 hours
Lower Respiratory Tract
Mild to Moderate or Severe
875 mg at an interval of 12 hours or 500 mg at an interval of 8 hours
45 mg/kg/day at an interval of 12 hours or 40 mg/kg/day at an interval of 8 hours
Clinical Pharmacology
 After taking the dose, half of it gets used by the body within 61.3 minutes. Amoxicillin use is stable in the existence of gastric acid, which accounts for its good compliance. It is highly active and gets rapidly absorbed through the oral route of administration. The drug readily gets diffused in the tissues and fluids of the body. However, it cannot enter inside the brain and spinal cord as it cannot cross the blood-brain barrier. In blood serum, it is 20% protein bound. A major part of this antibiotic is excreted out in an unchanged form. Only concurrent administration of probenecid can delay the excretion of the drug (4).
Action Against Bacteria
 Amoxicillin is a bactericidal drug that kills bacteria. It inhibits the biosynthesis of the mucopeptide of the cell wall of the bacteria due to which the bacteria fail to survive.
It works against the following strains:
Missed doses or Overdose
Skipping doses incurs a risk of infection. In case a dose is skipped by mistake one shouldn't compensate by taking two doses simultaneously since that could be dangerous. In the case of taking an extra dose or two one shouldn't worry but should contact a doctor immediately.
Side Effects
The major Amoxicillin side effects are:
Allergy
Skin rash
Eyes and face swelling.
Burning Eyes
Sore throat
Fever
Nausea
Vomiting
Pregnant women or nursing mothers must take refer to a doctor before taking this drug. Taking alcohol has no adverse effect on the reaction of the drug.
Drug Reactions with Amoxicillin
One should inform their doctors if they are on any other medication while prescribed a course of Amoxicillin. These drugs, especially react with Amoxicillin:
Apart from these, 4 major, 20 moderate, and 8 mild drugs interact with it. The effect of birth control pills gets less effective under influence of Amoxicillin.
This drug must be administered under a doctor's supervision. Each individual's dosage will vary according to their medical health history and allergies. In case of side effects, missed doses, or overdoses one must consult their doctors immediately.
Disclaimer:
Anzen Exports' blog posts are based just on our research from cited websites. To be best informed, we advise consulting a doctor about an ingredient or medicine prior to taking it.
Sources
Food and Drug Administration
Website –   https://www.accessdata.fda.gov/drugsatfda_docs/label/2008/050760s11,050761s11,050754s12,050542s25lbl.pdf
Article – Amoxil
Date – Nov 2006
Website – https://www.webmd.com/drugs/2/drug-1531-3295/Amoxicillin-oral/Amoxicillin-oral/details/list-conditions
Article – What Conditions Does Amoxicillin Treat?
Website – https://www.drugs.com/Amoxicillin.html
Article – Amoxicillin
Date – Jan 2020
DailyMED by US National Library of Medicine
Website – https://dailymed.nlm.nih.gov/dailymed/drugInfo.cfm?setid=649d285c-8fcb-48dd-aa5e-2f34128102f5##
Article -Drug Label Information