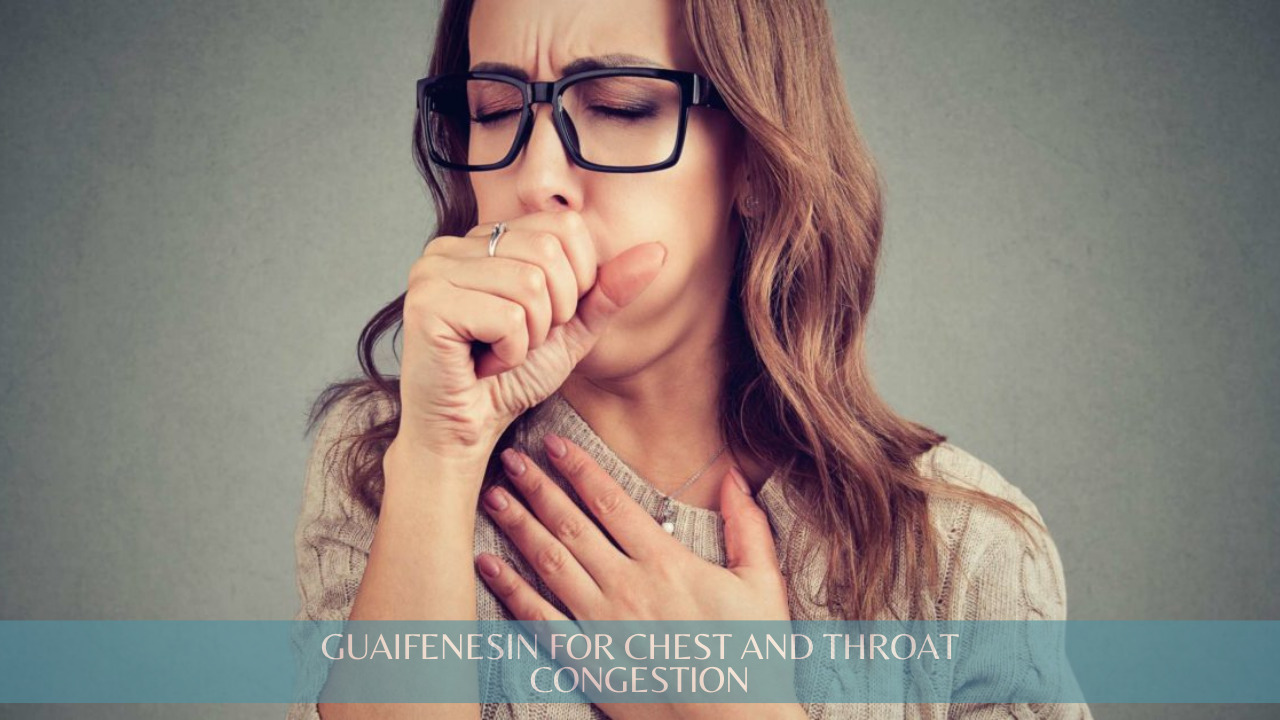 Guaifenesin is an expectorant or mucoactive drug that unlaces the mucus present in the nasal airways. It is used for symptomatic management of chest congestion and wet cough caused by
common cold,
allergies, or infections. 
Guaifenesin uses
are wider in fact, it is a standalone all-in-one medication for cold and cough. Food and Drug Administration (
FDA
) has approved this drug as the only expectorant since 1952. (1)
Molecular Formulae – C10H14O4
Molecular Weight – 198.22 g/mol
How does it Works?
Guaifenesin mechanism of action has an expansive reaction on the mucociliary mechanism by removing gathered secretion in the airways. This is an expectorant with glyceryl guaiacolate. It stimulates mucus secretion in the respiratory tract. It irritates the gastric vagal receptors and efferent parasympathetic reflexes, which are responsible for glandular exocytosis. This is an agent that decreases the viscosity of the secreted mucus. The process is done by reducing surface tension, adhesiveness, and increasing mucus hydration. (2)
It acts as:
Decongestants – It alleviates blocked nose by constricting blood vessels inside the nasal passage. As a result, the size of the airway increases, and the patient can breathe well.
Cough Suppressants – It directly acts on the nerve center of the brain, which stimulates coughing. It hydrates the mucus to lower the stickiness. Therefore, the patient can cough easily.
How to Use This Drug?
Guaifenesin tablets or syrups are generally taken as an over-the-counter drug and also as prescription medicine. It can be taken after every four hours. 200 to 400 mg after every four hours is advisable for adults. It must not exceed 2.4 g/day. This can give instant relief. 600 to 1200 mg after every 12 hours can be taken for sustained release.
Pediatric dosage may vary from 50 mg to 1200 mg based on age bracket and clinical condition. One must always consult a doctor before taking any medicine, as wrong dosage or excessive use may incur other morbidities. (3)
Pharmacokinetics
Guaifenesin pharmacokinetics has an established profile. It is absorbed in the GI tract of the human being. It has a half-life of approximately 1 hour. Post absorption, it undergoes demethylation, oxidation, metabolization, and then excreted out. (4)
Contraindications
Guaifenesin contraindications are vast. Hence, one must inform the doctor or pharmacist if any chronic diseases persist: (5)
Diabetes
High blood pressure
Prostrate problem
High thyroid level
Asthma
Liver disease
Gallbladder problem
Dysfunction of the autonomic nervous system
The API Guaifenesin
Guaifenesin is an Active Pharmaceutical Ingredients that is used in making cough and cold suppressant drugs. It has wide ranges of therapeutic effects; hence, the demand and supply graph is also higher. Anzen Exports is one of the leading exporters of this API catering to national and international drug manufacturers. It is one of our top ten products among the other ranges of API comprising more than 500 collections.
To know more about API, nutraceutical and herbal extracts connect with us. Follow us on social media to get regular updates on various medicines and recent updates of this industry.
Disclaimer:
Anzen Exports' blog posts are based just on our research from cited websites. To be best informed, we advise consulting a doctor about an ingredient or medicine prior to taking it.
Sources:
Drugs.com
Website – https://www.drugs.com/guaifenesin.html#:~:text=Guaifenesin%20is%20an%20expectorant.,cold%2C%20infections%2C%20or%20allergies.
Pub Chem
Website – https://pubchem.ncbi.nlm.nih.gov/compound/Guaifenesin
Medical News Today
Website – https://www.medicalnewstoday.com/articles/expectorants#medicinal-expectorants
NCBI
Website – https://www.ncbi.nlm.nih.gov/pmc/articles/PMC5724298/
WebMD
Website – https://www.webmd.com/drugs/2/drug-999/guaifenesin-dac-oral/details/list-contraindications