Most people, at some point, have used Mupirocin Ointment or Mupirocin Cream to prevent a skin infection. We took a closer look at when and how you can use the skin treatment.
What is mupirocin?
Mupirocin is the active pharmaceutical ingredient (API) present in topical antibiotic treatments for small wounds and skin infections. The active ingredient prevents certain bacteria from growing on skin.
What skin conditions can mupirocin treat?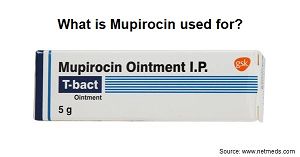 Topical mupirocin is useful for treating skin infections, such as
eczema
,
dermatitis
,
psoriasis
,
herpes
(cold sores), infected cuts, skin sores, and insect bites. Additionally, mupirocin is an effective treatment for
impetigo
in children. It is always a good idea to pack a tube of the antibiotic cream or ointment in your travel first aid kit for small wounds, abrasions, and stitches (
GoodRx
).
Is mupirocin an antifungal treatment?
Mupirocin is a good antibacterial preparation, and it stops skin infections caused by aerobic bacteria. However, it is not effective against anaerobic bacteria, like mycobacteria, mycoplasma, chlamydia, yeast, and fungi. This is the reason that mupirocin will not work on athlete's foot, jock itch, or severe acne
How does it work?
Topical mupirocin works as a bactericidal and antimicrobial agent. Mupirocin is the active ingredient that stops bacteria from multiplying. The antibiotic ingredient works by blocking the enzymes that help the growth of infection-causing bacteria (PushHealth).
Mupirocin ointment dosage
The cream and ointment both contain mupirocin calcium 2%. This means the finished dosage, such as Bactroban Cream (mupirocin calcium cream) contains 20 mg of mupirocin as the API.
Mupirocin ointment 2% contains mupirocin 20 mg in a polyethylene glycol ointment base. The chemical formula of mupirocin is C26H44O9, its molecular weight is 500.6, and the structural formula is: (GSK Australia)

Molecular Structure of Mupirocin
How to apply mupirocin properly (Patient. GoodRx)
Typically, mupirocin ointment is used on the affected skin thrice daily and re-evaluated 3-5 days. Unless your doctor tells you otherwise, you can apply mupirocin 2-3 times a day for up to 10 days. Avoid using it beyond that.
Wash your hands and use a clean cotton swab or cotton wool to apply a small amount on the infected skin. It is normal for it to sting a little at first, but this will soon pass. Protect the wound or infection with a small gauze dressing, and store the ointment at room temperature, ie. 20°C to 25°C.
Do not get it in your eyes, mouth, nasal passage, or vagina.
Consult your doctor, before using it if:
you are pregnant or breastfeeding,
you have a kidney problem (especially if the brand contains polyethylene glycol),
You were allergic to a medicine, especially any skin preparation earlier.
 Impetigo in children
Impetigo is a highly contagious bacterial skin infection common in children. It is caused by the superbug, Staphylococcus aureus and S. pyogenes bacteria (PushHealth). This is why impetigo is also known as "Staph" infection.
The FDA approved mupirocin ointment can also treat children with impetigo. The topical treatment is used only on children aged above 2 months. The cream formulation is approved for children over 3 months with skin infections.
Studies show mupirocin can be equally effective as orally administered erythromycin and cephalexin (Healio). Furthermore, studies have not reported pediatric-specific problems that would limit the usefulness of topical mupirocin in children (GoodRx). However, it is best to consult a paediatrician before using it on infants.
 Are there any side effects of mupirocin?
Some people see side effects of using mupirocin ointment or cream. Some people may see a rash, dry skin, tenderness or swelling. It is safe for use on facial skin as well as children above 2 years.
Common side effects:
Burning
Stinging
Itching
Pain
Call your doctor immediately if you have:
severe stomach pain;
diarrhoea;
bloody stool;
severe itching or rash;
blistering or peeling skin;
a new skin infection.
Get emergency medical help if you have:
an allergic reaction;
hives or dizziness;
fast or pounding heartbeat;
wheezing or difficulty breathing;
swollen face, lips, tongue, or throat.
A word of caution:
Do not allow mupirocin to come in contact with your eyes.
Do not drink alcohol while using it.
Avoid using it if you have kidney problems.
 What do users say?
Read what people who use mupirocin have said about the medicine with online ratings and reviews here.
What about drug interactions?
It is best to check with your doctor if you are taking any prescription or OTC medication.
Is mupirocin generic?
Mupirocin is available only as a generic drug because all the brand names are discontinued. GlaxoSmithKline Pharmaceuticals markets topical mupirocin under the name, Bactroban 2% cream and ointment. Mupirocin and Bactroban creams and ointments require a prescription in the US, where it is not available online. You can buy the prescription mupirocin ointment, T-Bact, also made by GSK, in India from your local pharmacy.
To get more information about or to buy mupirocin and more APIs (bulk drugs) in India, contact Anzen Exports.
Disclaimer:
Anzen Exports' blog posts are based just on our research from cited websites. To be best informed, we advise consulting a doctor about an ingredient or medicine prior to taking it.
References:
"Bactroban 2% Cream or Ointment Product Information." GSK Australia, 23 Apr. 2015, au.gsk.com/media/223642/bactroban_cream_ointment_pi_004_approved.pdf.
"Mupirocin Cream – Overview." Push Health – Virtual Concierge Medical Care, www.pushhealth.com/drugs/mupirocin.
"Mupirocin for Skin Infections. Mupirocin Side Effects and Dosage." Symptom Checker, Health Information and Medicines Guide | Patient, 29 Jan. 2019, patient.info/medicine/mupirocin-for-skin-infections-bactroban.
Orrange, Sharon. "What Medications Should You Pack in Your Travel First Aid Kit?" GoodRx, 31 Dec. 2019, www.goodrx.com/blog/essential-medications-for-travel-first-aid-kit/.
"Topical Products Used for the Treatment of Common Skin Infections." Healio: Medical News, Journals, and Free CME, 1 Apr. 2002, www.healio.com/pediatrics/dermatology/news/print/infectious-diseases-in-children/%7B7c3c5d78-1dee-4c2e-8911-c3190345e2c7%7D/topical-products-used-for-the-treatment-of-common-skin-infections.
"What is Bactroban?" GoodRx, www.goodrx.com/bactroban/what-is#.