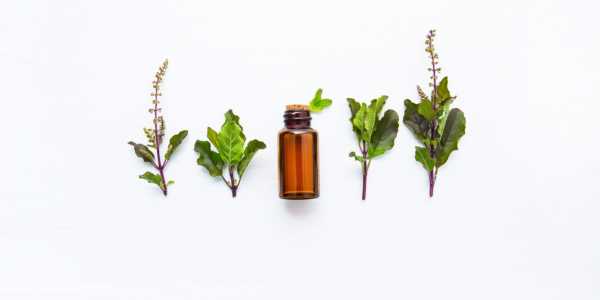 Native to Southeast Asia and the Indian subcontinent, Ocimum tenuiflorumor, commonly known as the Holy Basil or Tulsi, is renowned for its various therapeutic properties. It is rich in antimicrobial, antidiabetic, adaptogenic, hepatoprotective, anti-inflammatory, radioprotective, anticarcinogenic, neuroprotective, immunomodulatory and cardioprotective properties. Also referred to as 'Hot Basil' owing to its peppery taste, Holy Basil is known to decrease inflammation, lower blood sugar levels and even act as an antioxidant.
Being host to a plethora of beneficial constituents viz. eugenol, ursolic acid, rosemarinic acid, carotenoids, caryophyllene, oleanolic acid, vitamin C, iron, calcium, zinc, and chlorophyll – the uses of holy basil are myriad. Commonly prescribed for coughs and colds, asthma and bronchitis, this herb also promotes circulation, normalizes blood pressure and is often combined with other herbs to address heart issues. [1, 2]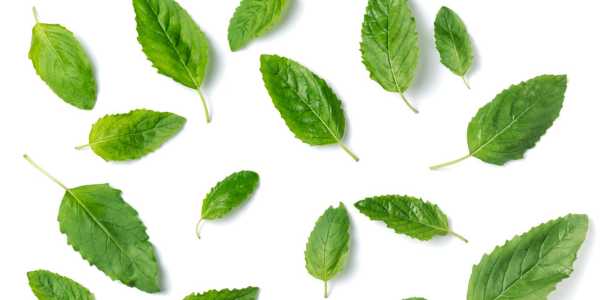 Medicinal uses [3, 4]
Finding widespread usage in both Western and Ayurvedic medicine, the plant is known to:
Combat stress
Stabilize blood sugar levels in diabetics
Promote longevity
Lower cholesterol
It is also known to have the following characteristics:
Anti-pyretic (prevents fever)
Antimicrobial (its efficacy ranges from treating fungal to viral infections)
Antitussive (treats cough)
Protects the liver, brain and heart
Antidiarrheal
As an adaptogen, it helps to:
Balance stress hormones such as cortisol
Improve brain function and boost the immune system
Lower inflammation and improve overall energy levels
Improve the function of organs and slow down ageing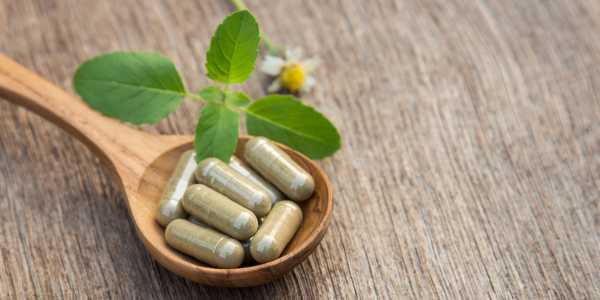 Mechanism of action [3]
The presence of a complex pool of phytochemicals is responsible for the rich medicinal properties attributed to Holy Basil:
Eugenol: Lowers blood glucose levels, treats digestive and respiratory problems
Ursolic acid: Has antioxidant, anti-inflammatory, antibacterial, anticancer, antifungal properties
ß-caryophyllene: Possesses anti-inflammatory, analgesic and antipyretic effects
1,8-Cineole: This is beneficial in cough, allergies, asthma relief and immune support
Side effects
It is safe when it entails short-term usage: 500 mg daily for 60-90 days. It might cause nausea or diarrhoea. There isn't enough reliable information available to know if it is safe to use long-term. [4]
Precautions [4]
Pregnancy: Consumption of Holy Basil is probably unsafe during pregnancy or when trying to conceive. In animal testing, large doses of the herb have reduced the chances of getting pregnant or have caused abortion. The data is, however, still unconfirmed in humans.
Breastfeeding: Enough reliable information about the safety while breastfeeding isn't available. So it is best to consult the family physician before consumption.
Hypothyroidism: Holy Basil lowers thyroxine levels and could worsen hypothyroidism.
Surgery: The herb may slow blood clotting – it is advised to prevent usage at least two weeks before a scheduled surgery.
Interactions [4]
Anticoagulant / Antiplatelet drugs interact with Holy Basil.
Since this herb may slow blood clotting, interaction with blood clotting medicines is possible. Slow clotting might increase the chances of bruising and bleeding.
The sedative Pentobarbital interacts with Holy Basil. Since Pentobarbital causes drowsiness, combining it with Holy Basil seed oil might cause excessive drowsiness.
Safeguarding our patients
Anzen Exports Pvt. Ltd. has been serving the pharmaceutical industry for over three decades and specializes in exporting APIs, herbal extracts and nutraceutical ingredients to more than 70 countries worldwide. The company procures these medicinal components from top-notch manufacturers and supplies them effectively to top drug-making companies.
For more information about the company and its products, visit https://anzen.co.in
Disclaimer:
Anzen Export's blog posts have been written with the information gathered from approved medical journals and websites online. Our research and technical team strive to provide relevant information through such articles. To be best informed, we advise consulting a doctor about an ingredient or medicine before taking it.
References:
[1] Healthline [online]:
https://www.healthline.com/health/food-nutrition/basil-benefits#Not-your-basic-basil
[2]Mederi Centre [online]:
https://medericenter.org/the-mederi-blog/holy-basil-an-herb-with-incomparable-benefits.html
[3]Very Well Health [online]:
https://www.verywellhealth.com/holy-basil-4766587
[4] WebMD [online]:
https://www.webmd.com/vitamins/ai/ingredientmono-1101/holy-basil