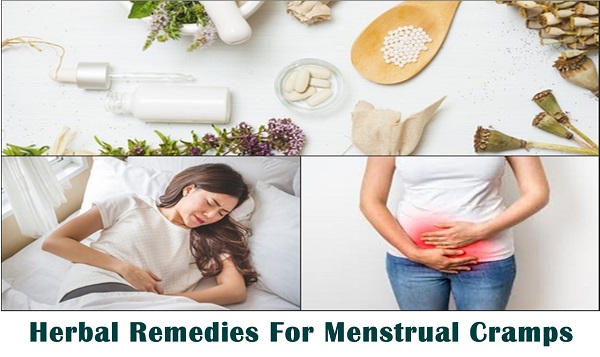 Organic compounds that prohibit the production of prostaglandins is beneficial for severe menstrual cramps. Anti-inflammatory, sedative, and anti-spasm chemicals from herbal sources have an evident recovery effect on pain and muscle cramps. As an alternative to mainstream medicine, herbal components are highly beneficial. (1)
Dysmenorrhoea is a medical term attributing to painful menstrual flow and cramps. The menstrual cramp is generated from the uterine and radiates to the lower back, thighs, and lower abdominal area. This pain is a cause of inflammation and spasm. (2)
What Causes the Menstrual Cramps?
The unfertilized ovum gets attached to the uterine wall. To remove the same, the uterine wall sheds built-up lining. Therefore, the muscles of the uterus or womb contract and relax to regulate the procedure. Generally, this pain is experienced during the onset of heavy blood flow in period. Furthermore, endometriosis, uterine fibroids, and pelvic inflammatory diseases are some of the other causes of such cramping pain. (3)
Also Read- Herbal Treatment for PCOD
Top 5 Herbal Remedies for Menstrual Cramps
Herbal remedies for menstrual cramps are easily available in one's kitchen. Herbal components have a wider range of medicinal benefits, even when taken as a spice in one's meal.
Ginger – It is rich in anti-inflammatory properties that prohibit the secretion of prostaglandins. It is more effective in reducing pain when compared to placebo or medicine for painful menstruation including non-steroidal anti-inflammatories and oral contraceptive pills. The blood thinning property of ginger soothes blood clots and helps conduct an easy outflow. One may have ginger slices with tea or hot water to relieve pain. (4)
Fennel – Fennel seeds benefits are enormous. It contains anethole, which has an anti-spasm effect. Emmenagogue is another constituent that regulates easy and healthy menstrual flow.
Liquorice Root – Flavonoids and glycyrrhizin are two major components in this herb that alleviate pain, spasm, and painful menstruation causes. (5)
Cinnamon Bark – It has an anti-clotting property that relieves menstrual cramps and the endometriosis thickness.
Angelica Root – It is a Chinese herb that is a blood thinner and it regulates easy blood circulation. It also prevents cramps and helps the body to recover from blood loss.
Gardenia Jasminoides – It is of Indian origin and belongs to the coffee family. It has a sedative effect and suppresses the central nervous system. It relieves pain, insomnia, hot flushes, etc.
Bupleurum & Peony Seed – Both of these Chinese herbs relieve muscles cramps in the uterine wall and are highly active on the liver. The liver plays a vital role in oestrogen metabolism and healthy period regulation.
Safflower – It thins the blood and relives blood clotting and pain during menstrual flow.
Corydalis – It invigorates the flow of blood and stops pain. It acts as a muscle relaxant and analgesic. (6)
Home Remedies for Menstrual Cramps
Placing a hot bag on the abdomen, gentle exercise, hot oil massage on the abdomen, back, and thigh, having herbal tea, etc. are some persuasive home remedies for relieving menstrual cramps.
Besides exercise, orgasms can be a great remedy for menstrual pain relief. Some specific sex positions for menstrual cramps are evidently highly advantageous. (7)
What is Ginger Extract?
Ginger extract is the concentrated form of gingerol that is the main bioactive compound and natural oil present in ginger.
Ginger extract has an array of therapeutic advantages. It is effective for controlling menstrual cramps, obesity, and osteoarthritis. Ginger improves cardiac diseases, lowers diabetes, lowers cholesterol, treats indigestion, protects against diseases such as cancer and Alzheimer's, fights infection, and much more. (8)
Anzen Exports is an exporter of an array of natural extracts including ginger extract. We are engaged in domestic trading and international export of herbal extracts, nutraceutical extracts, and active pharmaceutical ingredients. We source authentic and quality products from the leading manufacturers of India and export those to multinational companies across the world.
Check our product page to find out your required item, fill up the inquiry form to get more information, or connect with us for more details.
Read our upcoming blogs to be updated on health issues and protective measures. Share your comments and information to keep us all healthy and happy!
Disclaimer:
Anzen Exports' blog posts are based just on our research from cited websites. To be best informed, we advise consulting a doctor about an ingredient or medicine prior to taking it.
Sources: