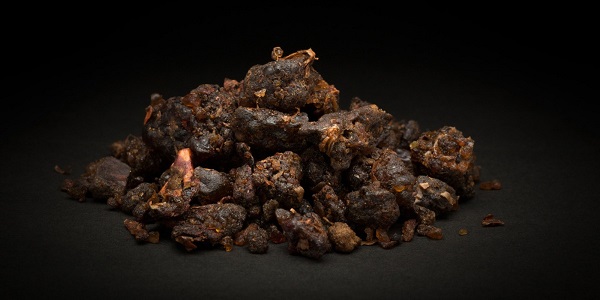 Guggul is derived from the Commiphora Mukul tree, a species of the Burseraceae family. (3) Commiphora Mukul trees are found mainly in India, Bangladesh and Pakistan. Guggul is composed of the sap of the tree. It is used to manufacture incense and traditional medicine. (3) Revered for its healing properties, it is also extensively used to treat various ailments. The use of guggul can be traced as early as 600 BC. (1) (2)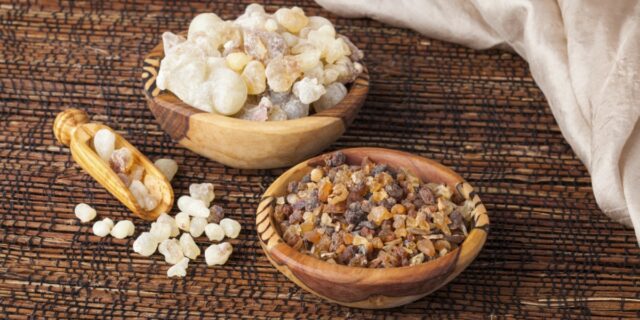 Herbal weight loss aid
Guggul is claimed to have been known as an ancient weight loss aid. (1) Research suggests that an intake of guggul phosphate and L-tyrosine combined may aid in weight loss in moderately overweight people. This combination may not work on overweight or obese people. It is usually available as herbal supplements, effectively treating obesity for weight loss and reducing body circumference. It may help to suppress appetite as a step towards weight loss. Less research evidence is available to support guggul for this benefit.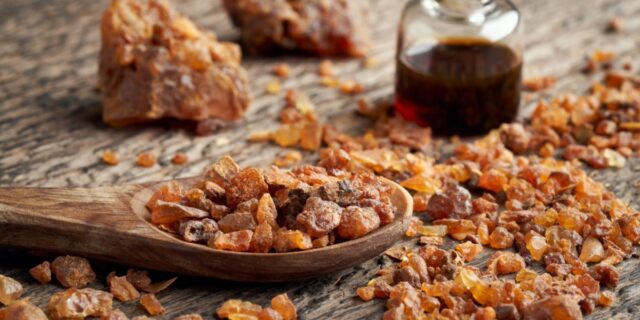 Imparting anti-inflammatory properties 
Sushrut Samhita, the ancient script on medicine and surgery, considers guggul beneficial in treating obesity, digestive tract disorders, blood cancer, IBD, asthma, malignant sores, sinus, oedema, arthritis, ulcers, diabetes and other diseases. In modern times, Guggul gum resin is an effective remedy for treating high cholesterol, acne, atherosclerosis, and weight loss.
Guggul imparts therapeutic properties towards enhanced health, composed of guggulsterone (GS), boswellic acid (BA), lignans, and ketosterols. (5)
Apart from weight loss, Guggul has therapeutic effects on hyperlipidemia or lowering cholesterol levels on people following Indian diets. (3) The guggulsterone may help in improving arthritis. While osteoarthritis may need a smaller daily dose of 1500 mg per day, rheumatoid arthritis will require 3000 mg per day dosage for at least four months for improving the condition. With anti-inflammatory properties, guggul seems to work well on nodulocystic acne, eczema and psoriasis. (2)
Side Effects
Guggul, a herbal medicine, should be taken under medical prescription only. Intake may produce side effects such as diarrhoea, hiccups, allergic skin reactions, mild nausea, vomiting, belching, headache, etc. It is safe to intake within the recommended dosage only. High doses of guggul may lead to liver damage. Persons with severe liver or kidney disease, pregnant and lactating women, patients under treatment for a thyroid disorder or hormone-sensitive cancer should avoid the use of guggul. Guggul should also be avoided if taken with herbal supplements or blood thinners as turmeric, garlic, ginger, ginkgo, aspirin or non-steroid anti-inflammatory drugs. Use of birth control pills, thyroid hormones, breast cancer drugs, and herbs as soy ad flaxseed should not be used alongside the intake of guggul. (4)
Due to its various benefits, Guggul has several patents as a constituent of polyherbal formulations and cosmetics.
Anzen Exports: Services for the Healthcare Industry
Anzen Exports is renowned for manufacturing and exporting high-quality Active Pharmaceutical Ingredients, herbal extracts, nutraceutical ingredients, and cosmetic ingredients. Anzen was involved in domestic trading and export of Active Pharmaceutical Ingredients. The company used the best of its resources and workforce to strengthen its network with the finest manufacturers in India.
Anzen Exports is vertically integrated into the healthcare industry. It works towards the common goal of providing the best services for the needs of the Pharmaceutical Industry.
For more details, visit www.anzen.co.in
Disclaimer:
Anzen Export's blog posts have been written with the information gathered from approved medical journals and websites online. Our research and technical team strive to provide relevant information through such articles. To be best informed, we advise consulting a doctor about an ingredient or medicine before taking it.
References: