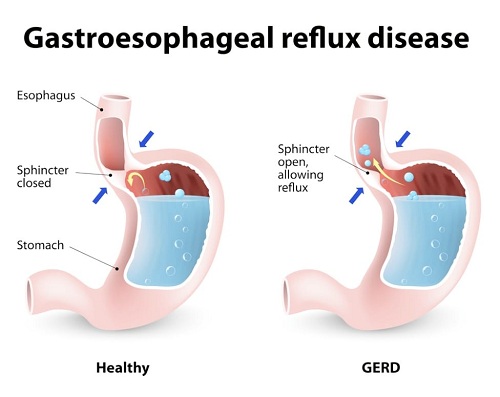 Gastroesophageal Reflux Disease (GERD) is a clinical disorder that affects millions of people across the world. Acid suppressive therapy gives symptomatic relief and restraints complications.GERD Awareness Week 2020aims to support and assist people suffering from gastrointestinal disorders. International Foundation for Gastrointestinal Disorders (IFFGD) endeavors to evolve awareness among GERD patients to seek medical help and not to ignore the symptoms. It was first celebrated in1999 and henceforth, added to the event list of the U.S National Health Observances calendar. (1)
How does it occur?
GERD causes due to acid reflux or backflow of the content of the stomach to the esophagus. This results in pain and heartburn. It takes place when the muscular barrier between the stomach and esophagus malfunctions. However, the symptom of normal heartburn differs from chronic GERD. (2)
Causes of Acid Reflux
Sedentary lifestyle
Stress and anxiety
Prolonged medication or side effect of any medicine
Food habit
Obesity
Smoking
Having spicy fried food
Late night dinner
Having alcohol
Symptoms of GERD
The majorGERD symptomis heartburn. Apart from that, other symptoms are:
Chest pain
Difficulty in swallowing
Sour liquid or regurgitation of food
A lump like sensation in the area of the throat
Non-cardiac chest pain
Hoarseness (3)
Complications
Gastroesophageal Reflux Disease may turn into malignancy if left untreated for a long time. Hence, one should seek immediate medical assistance on experiencing the above-mentioned symptoms. The followings are some diseases that may occur from chronic GERD.
Esophageal stricture – It makes the esophagus narrow by damaging its lower part. When the acid formed in the stomach consistently gets flung on the esophagus it firms scar tissue, which narrows the pathway of the food. Thus, swallowing becomes a problem.
Esophageal ulcer – Acid from the stomach wears out the esophageal tissues forming an open sore. This causes painful and bleeding ulcers.
Esophageal cancer – By the process of continuous damage through the acid from the stomach, the ulcer becomes malignant due to changes in the lining of the tissue. (4)
GERD Treatment
The GERD treatment comprises over-the-counter medication to surgery. Lifestyle changes, prescription medicines, exercise; stress relief drugs are some potent ways to get relief from this disease. In extreme cases, surgery may be performed with medical advice. One may also try natural methods to recover from this ailment.
Observing GERD Awareness Week
Almost all adults have experienced GERD problems at some point of time or the other. We often ignore this matter unless it becomes chronic or we suppress it with over-the-counter medicines. The outcome of chronic GERD is esophageal cancer. This awareness week, let us all educate ourselves, and our acquaintances, about this ailment. (5)
Medicines for Heartburn& GERD
Pharmacology is expanding the medicine protocol to provide the fastest relief and completely cure for heartburn. Proton Pump Inhibitor (PPE) is incorporated in the mainstream treatment of GERD. Active Pharmaceutical Ingredients (API) plays a vital role in this genre of medicine making.
To maintain the demand-supply chain of medicine making, Anzen Exports is proactive in exporting quality API from the Indian market to across the world. Apart from medicines related to GERD, it caters to 23 varieties of API for medicines related to the alimentary system. Check out our product page and send your inquiry by filling up the enquiry form. We are happy to help you round the clock.
Disclaimer:
Anzen Exports' blog posts are based just on our research from cited websites. To be best informed, we advise consulting a doctor about an ingredient or medicine prior to taking it.
Sources:
National Today
Website – https://nationaltoday.com/gerd-awareness-week/
NCBI
Website – https://www.ncbi.nlm.nih.gov/pmc/articles/PMC6140167/
Mayo Clinic
Website – https://www.mayoclinic.org/diseases-conditions/gerd/symptoms-causes/syc-20361940
Mayo Clinic
Website – https://www.mayoclinic.org/diseases-conditions/gerd/symptoms-causes/syc-20361940
Salgi
Website – https://salgi.org/gerd/