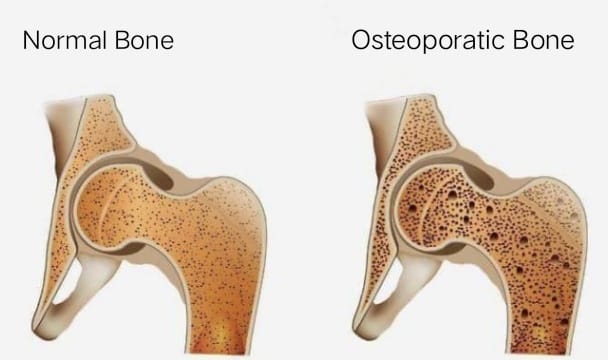 Calcium and Vitamin D are the two most essential nutrients for healthy and strong bones. An enriched diet can evade diseases related to bones.
Osteoporosis disease
is one of the critical ailments, which makes the bones weak, porous, and brittle. It is a chronic,
osteo metabolic
, and asymptomatic disorder. It mostly occurs in elderly women after attaining menopause; men are not immune to it either. Due to a decrease in bone mineral density, the risk of fractures enhances. (1)
International Osteoporosis Foundation estimates 200 million women in the world are affected by this disease. Osteoporosis causes around 9 million fractures per year across the globe. Ageing, low body weight, fall in estrogen and progesterone level, smoking, prolonged medication are some common risk factors. (2)
Calcium
Calcium is one of the most essential nutrientsfor bone mass and neuromuscular activity, cardiac function, blood coagulation, cell functions, and transmitting the signals from nerves to the brain. It forms the bone architecture and deposits bone minerals. 99% of the body's calcium is stored in the bones and the teeth. Apart from this,the level of plasma calcium helps determines the calcium balance. On the decrease of the plasma level bone resorption enhances to restore the calcium plasma level. The right intake of calcium maintains thebalance.
For infants, consumption of Calcium must be 800mg/day; for adolescents, consumption must be at the highest quantity – up to 1300mg/day; for adults, 1000mg/day; for the elderly, it should be 1200mg/day. (3)
Potent sources of calcium are dairy products (milk, yogurt, and cheese), green leafy vegetables, fish, tofu, oatmeal, green beans, sea vegetables, garlic, and other calcium-fortified foods (cereals, grains, and orange juice).
Excess intake of Calcium may increase the risk of gastrointestinal disorders, nephrolithiasis, and cardiovascular disease. The side effects of calcium are yet a matter of debate.
Vitamin D
Out of the 5 essential nutrients,Vitamin D is a vital onethat mainly helps the body absorb enough calcium and phosphorous. It helps in the absorption of calcium inside the small intestine. Its most active source is sunlight. An adequate time to absorb Vitamin D from sunlight is 15 min for a person with a light skin tone and one to two hours for those with a darker skin tone. (4)
Other dietary sources of Vitamin D that may be taken for osteoporosis treatment or prevention are fatty fish, beef liver, egg yolk, cheese, mushroom, and others sources, which have added Vitamin D, like orange juice cereal, and milk.
From age, 1 to 70, the ideal level of intake of Vitamin D is 600 IU/day and 800 IU/day after the age of 70 years. However, the intake of over 4,000 IU/day of Vitamin D can be harmful for health.
Vitamin C
This immunity boosting vitamin plays a vital role in osteoporosis prevention. It is a primary antioxidant that removes reactive nitrogen species and oxygen and abates oxidative stress. Along with Vitamin D, it assists in the absorption of Calcium. (5)
Citrus foods are a potent source of Vitamin C. Minimum daily intake should be 60 – 90mg/day.
Zinc
Zinc increases bone mass by stimulating osteoblastic bone formation and inhibiting osteoclastic bone resorption. Nutritional zinc has both therapeutic and preventive effects on restraining bone loss.
For anormal human being, 30mg/day of zinc is required to be balanced by the amount of mg/day of copper. Patients with osteoporosis are required to take to 15-30 mg/day of zinc to balance 1.5 to 3mg/day of their copper intake.
Oysters, red meat, beans, nuts, crabs, lobsters, whole grains, and poultry products are rich in zinc sources.
Protein
Protein increases the muscle mass and bone mass by increasing the absorption of calcium and suppressing parathyroid hormone. It minimizes the morbidity and mortality rate of fracture.
Rich sources of protein are almond, milk, broccoli, eggs, chicken, oats, cottage cheese, etc. According to Dietary Reference Intake, 0.36gm of protein must be taken per pound of body weight, i.e. 0.8 gm per kg.
The maximum intake of protein may cause the deposition of uric acid in joints, weight gain, constipation, kidney diseases, etc.
Signs & Symptoms
Osteoporosis symptomsare observed when a person experiences any fracture with a subtle fall or bump. Even a forceful cough or sneeze may break osteoporotic bones. Often hip, wrist, pelvic, spinal vertebrae get affected by this disease.
Osteoporosis diagnosis at an early stage can help take immediate measures and lessen the risk factor of fracture, pain, and other musculoskeletal diseases.
Types
Osteoporosis types can be categorized into:
Postmenopausal – Caused due to the lowering of estrogen and progesterone level. It causes the parathyroid hormone to over stimulate osteoclast.
Age-associated – Loss of bone density for high bone turnover and malabsorption of minerals and nutrients.
Diet & Lifestyle Choices
Some factors that may prevent the disease are:
Exercising regularly for developing muscle mass.
Maintaining a balanced diet.
Avoiding smoking and alcohol.
Maintaining a proper body posture.
Drugs Therapy
Bisphosphonates are antiresorptive drugs that decrease bone loss and fracture risk. SERMS Raloxifene is an estrogen receptor modulator that can be administrated for postmenopausal osteoporosis. Calcitonin, teriparatide, denosumab, and romosozumab are often used for treating this ailment.
Anzen Exports in API sourcing
To maintain a seamless demand and supply ratio of drugs, the source of API or Active Pharmaceutical Ingredients play a vital role. During the pandemic, the entire globe experienced the requirement of the same at a higher curve. Anzen Exports is API exports based in India, sourcing top-quality products from the potent market of India and supplying it across the globe. Be it geographical barrier or any emergency condition, we are dedicated to providing an extended effort to our clients in getting the API resources. For over 29 years we have served our client with a mission of giving value-added services and perfect API solutions. For any inquiry connect with us today.
Disclaimer:
Anzen Exports' blog posts are based just on our research from cited websites. To be best informed, we advise consulting a doctor about an ingredient or medicine prior to taking it.
Sources:
WebMD
Website – https://www.webmd.com/osteoporosis/default.html
NDTV
Website – https://www.ndtv.com/health/diet-for-osteoporosis-5-essential-nutrients-you-should-not-miss-2287979
NCBI
Website – https://www.ncbi.nlm.nih.gov/pmc/articles/PMC2621390/
WebMD
Website – https://www.webmd.com/diet/supplement-guide-vitamin-d#1
NCBI
Website – ncbi.nlm.nih.gov/pmc/articles/PMC4842429/