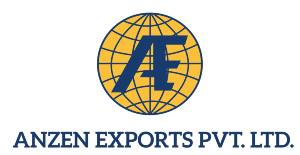 The wait is over! After being in the industry for 29 years, we are excited to bring to you our company blog.
"Anzen" is a Japanese word, meaning safety, security, preservation, sureness, and reliability. Our clients resonate with this belief while working with us today.
The story of Anzen Exports began in 1990, when the founder JK Jajodia and his son, Manish Jajodia were dealing in domestic bulk drug trading and imports.
When Mr. Manish, the current president of Anzen, took over the family business, he faced challenges unique to the Indian pharmaceutical industry. "Back then, it was not easy for a small business to enter a market dominated by established experts. Initially, we traded with our PAN India customers, but soon, in 1992, we made our first export to Brazil. Over time, we expanded the business and explored new markets. By 2003, we were actively exporting, however it was only after 2008 that exports took off in a big way with customer breakthroughs in the global markets", he explains.
Since then, the Anzen family has come a long way.
Today, the Anzen Group serves over 500 companies in 70 countries worldwide. Our product categories are Active Pharmaceutical Ingredients (APIs), Herbal Extracts, Nutraceuticals, and Nutri-Cosmetics. We have extended our pharmaceutical services from exporting raw materials to third party manufacturing and product development. To ensure the smooth running of this expansion, the group of companies has ventured out to new locations in India and Africa.
So, what is the secret of Anzen's success?
For starters, the next generation of Anzen is adding new ideas, skillsets and technology to leverage growth. Nishita Jajodia, the granddaughter of the founder, resonates with her father's thoughts. "We realize that our growth is directly proportional to the growth of our clients", says the young entrepreneur. Hence, helping clients grow by providing them the best quality service has become a norm at Anzen.
If you want to know more about us or become a part of this exciting Anzen journey, get in touch with us, and we will help you with all your queries. Simply message us via live chat, email, or visit the Anzen products page to send us a specific product enquiry.
We hope you enjoy reading our future posts on The Anzen Blog. Your opinion is important to us. Please leave your comments below and on our social media: LinkedIn Twitter Facebook.
Subscribe to our newsletter below to get email updates, fortnightly.
Disclaimer:
Anzen Exports' blog posts are based just on our research from cited websites. To be best informed, we advise consulting a doctor about an ingredient or medicine prior to taking it.