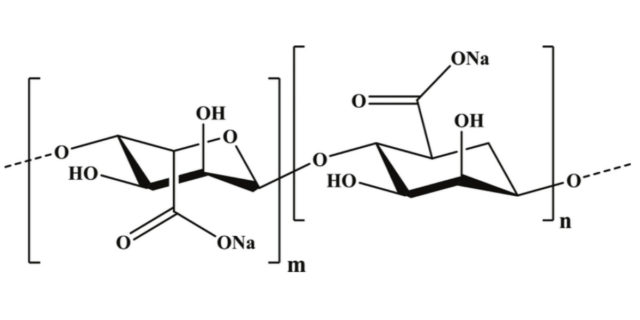 Sodium Alginate is a food additive derived from brown seaweed. It is predominantly used to emulsify or stabilize beverages and dairy products. Apart from this, it is used in medicines to reduce blood pressure, maintain cardiac health, strengthen immunity, and defend against harmful metals in the body induced via food or any exposure. It is a heat-stable gel that imparts viscosity. (1)
How is Sodium Alginate Prepared?
In the cell wall of brown seaweeds, there is alginic acid present. It has three forms of salts; sodium, calcium, and magnesium. The highly used species for extraction of alginic acid and salts are:(2)
Sodium Alginate formula is (C6H7NaO6)n. It is prepared by reacting sodium carbonate with alginic acid. The steps are as follows:
Brown seaweed is washed with acid and water to remove water-soluble substances like soluble proteins, sodium chloride, potassium chloride, and mannitol.
Cellulose is removed by filtration. Alginic acid and calcium alginate is converted to soluble sodium alginate by making them react with sodium carbonate.
Next, it is neutralized with sodium carbonate and then processed by drying and sieving the granules.(3)
Appearance
Sodium Alginate looks like a white to yellowish-brown tinge in powder or granules form. It has no odor, and taste. Hence, sodium alginate in food doesn't make any distinct color.
It is a polymer of polysaccharides:
Both of these are connected by α (1→4) glyosidic bond. The ratio or proportion of M/G determines the viscosity and gel strength. (4)
Why is this Stabilizer used in Ice-cream?
Sodium Alginate uses as a stabilizer limits the crystallization of ice during storage. Without the impact of a stabilizer, the ice becomes coarse as a result of the migration of the free water and development of ice crystals. Sodium Alginate targets to reduce the size of ice crystals, so it doesn't get detected by the tongue. It also controls the effect of temperature change on the ice cream during transportation. Hence, it stabilizes the ice-cream's quality. Following are some vivid functions: (5)
Stabilizes the beverages or ice cream emulsion to avert the fat from becoming cream. In dairy-based foods, it prevents the separation of serum caused by milk protein. It adds the flavor of the liquid item.
Stabilizes the air bubbles in the beverage or ice cream that boost the flavor inducing agents to remain static.
Prevents growth of lactose crystal and retards ice crystals during storage procedure. It ceases the moisture to migrate in the package and sublimation on the surface.
Intensifies the taste of the ice-cream without being gummy.
Anzen Exports in Exporting Sodium Alginate
In the niche of pharmaceuticals exporter, Anzen Exports has created a name for itself to stand long. Apart from 23 categories of Active Pharmaceutical Ingredients, herbal extracts, and nutraceuticals, it caters to some of the food additives as well. It enlists Sodium Alginate as of the top-selling products. This product is used in both the pharmaceutical as well as the food industry and is in high demand. With the dedicated service, Anzen Exports is accomplishing regular demand and supply across this industry. One may place an inquiry by connecting with us or filling in the inquiry form. We will be happy to serve you.
Disclaimer:
Anzen Exports' blog posts are based just on our research from cited websites. To be best informed, we advise consulting a doctor about an ingredient or medicine prior to taking it.
Sources:
NCBI
Website – https://www.ncbi.nlm.nih.gov/pmc/articles/PMC3223967/
Food Additives
Website – https://foodadditives.net/thickeners/sodium-alginate/
NutriScience
Website – https://nutriscienceusa.com/product/sodium-alginate/
Phycological Society of America
Website – https://www.psaalgae.org/alginate-gel
University of Guelph
Website – https://www.uoguelph.ca/foodscience/book-page/stabilizers