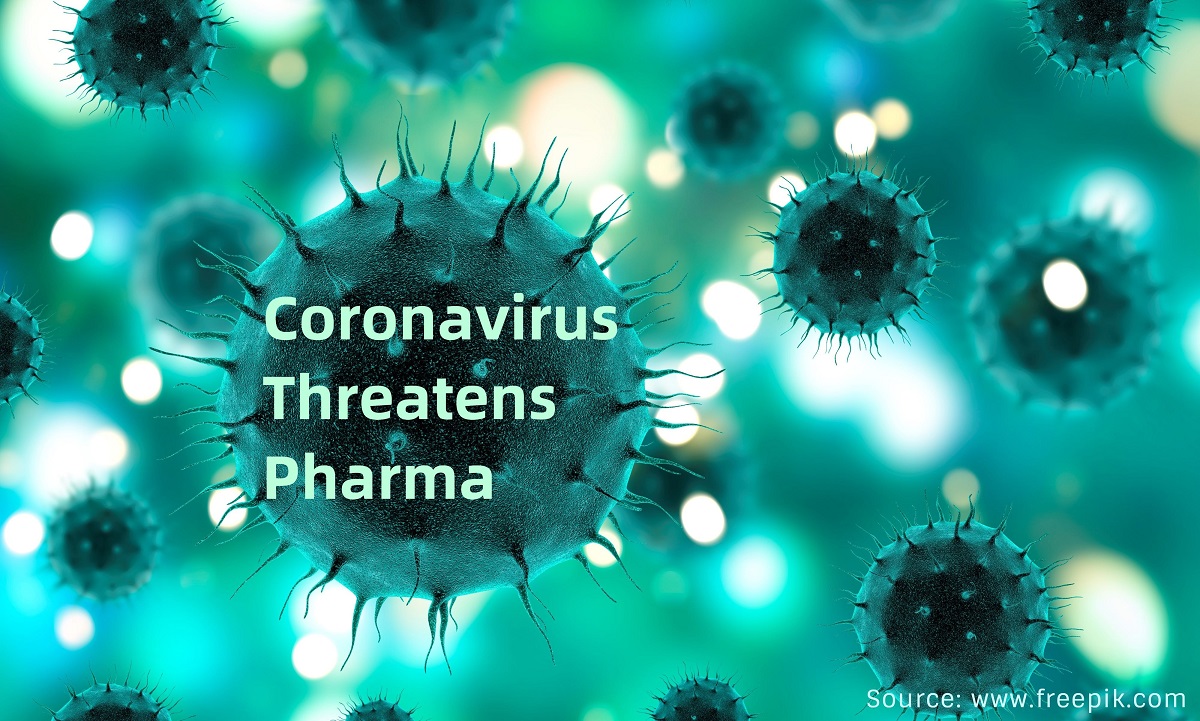 Epidemics and outbreaks are always alarming because they can spread quickly worldwide. A new member of the Coronavirus family, 2019-nCoV, has got the whole world worried sick, including the pharma industry. The WHO has recently declared this a Global Health Emergency after the number of people infected crossed 10,000 (The New York Times).
Although it is too early to see any ramifications, there may be drug supply shortages worldwide, due to slow import of bulk drugs (APIs) from China.
Why are we expecting a global drug supply shortage?
Many pharmaceutical companies have outsourced their manufacturing to India and China. China is the world's largest producer of Active Pharmaceutical Ingredients. About 80% of active ingredients commercially used to make finished medicines come from China (STAT News).
Organic chemicals and bulk drugs used for manufacturing medicines are among the top 10 Chinese imports by India. Indian drug manufacturers depend heavily on China for procuring certain key ingredients, known as APIs and intermediates, for making antibiotics, vitamins, paracetamol, anti-diabetic drugs, and cardiovascular drugs, among others. The Indian pharmaceutical industry may be in a tight spot, as the Coronavirus outbreak in a neighbouring country can potentially influence operations here as well (The Indian Express).
"Several cities in China are locked. We expect our shipments to be delayed and the latest order dispatches will not take place on time. There could be a shortage of bulk drugs till normalcy is restored in China," said BR Sikri, President, Federation of Pharmaceutical Entrepreneurs (ThePrint).
Indian drugmakers import 70% of their total bulk drugs and intermediates, worth $2.4 billion in FY19, from China alone (ThePrint). Many Indian pharma companies keep an inventory of supplies during the holiday season. However, there could still be an impact on the essential supply chains if the situation drags out beyond February.
According to a survey carried out by an online trading platform for buyers, traders, and manufacturers, the supply of APIs may become scarce in the first quarter as the inventory levels drop (in-PharmaTechnologist.com).
Coronavirus update
Every newspaper is buzzing about the Coronavirus pandemic that took China by storm only a month ago.
Latest reports confirm that the Coronavirus epidemic has taken the death toll to at least 360 with over 17,000 infected people (CNN). The Chinese authorities are trying desperately to contain the epidemic. The government has banned the sale of wild animals and placed over 35 million people on lockdown, blocking all forms of transport out of the affected region. They have even finished building a 1,000-bed hospital in Wuhan in just 8 days to start treating patients by 3 February 2020 (Business Insider).
Travelling to and from China
The outbreak began in December 2019 in Wuhan, the capital of China's Hubei province. Now it has spread across the globe. India, the USA, the UK, and Germany have issued travel advisories to discourage going to China. Beijing has also asked the Chinese people to avoid travel. Furthermore, several major airlines have suspended their flights to Chinese cities. Naturally, the pandemic has frightened the world, especially those living in neighbouring countries in Asia, including India.
On Sunday, India reported a second case in Kerala that tested positive for Coronavirus. Currently, 1,793 people with a travel history from the affected region are under surveillance in Kerala (Economic Times). A 22-year-old youth from Tripura has also died in Malaysia from the dreaded virus (Business Insider).
Health authorities are advising Indians to be very cautious, at least until the end of March. Travellers entering the country are undergoing strict health checks at the borders. Until scientists find a vaccine, it is best to take preventive steps. The World Health Organization has warned all governments to "take action" to contain the disease (Yahoo! News). The WHO and AYUSH Ministry are advising the public on taking specific steps for the prevention and cure of Coronavirus.
If you want to buy bulk drugs from a trusted API supplier in India, contact Anzen Exports.
Latest Coronavirus updates :
Updated On: 12-02-2020
New name of Coronavirus: WHO has officially named the new Coronavirus, COVID-19, an acronym for "coronavirus disease 2019." It replaces the temporary one, 2019-nCoV. Learn more here.
Coronavirus death toll: The death toll from the coronavirus outbreak topped 1,100 on Tuesday, after officials reported nearly 100 deaths in the past 24 hours. Read more here.
There are 3 confirmed cases in India, all from Kerala: Read more here.
Disclaimer:
Anzen Exports' blog posts are based just on our research from cited websites. To be best informed, we advise consulting a doctor about an ingredient or medicine prior to taking it.
References:
"A 22-year Old Tripura Youth Dies in Malaysia Due to Coronavirus." Business Insider, 30 Jan. 2020, www.businessinsider.in/science/health/news/a-22-year-old-tripura-youth-dies-in-malaysia-due-to-coronavirus/articleshow/73768449.cms.
"China Just Completed Work on the Emergency Hospital It Set Up to Tackle the Wuhan Coronavirus, and It Took Just 8 Days to Do It." Business Insider, 2 Feb. 2020, www.businessinsider.in/science/news/china-just-completed-work-on-the-emergency-hospital-it-set-up-to-tackle-the-wuhan-coronavirus-and-it-took-just-8-days-to-do-it/articleshow/73870171.cms.
"Coronavirus Outbreak HIGHLIGHTS: UN Agency Declares Global Emergency over Virus from China." The Indian Express, 30 Jan. 2020, indianexpress.com/article/india/coronavirus-outbreak-live-updates-china-india-62419926241992/?#liveblogstart.
"Coronavirus Pandemic Threatens to Cut Pharmaceutical Industry's Lifeline." The Economic Times, 30 Jan. 2020, economictimes.indiatimes.com/industry/healthcare/biotech/pharmaceuticals/coronavirus-pandemic-threatens-to-cut-pharmaceutical-industrys-lifeline/articleshow/73753415.cms?from=mdr.
"Could the Coronavirus Impact Supply of APIs?" In-pharmatechnologist.com, 29 Jan. 2020, www.in-pharmatechnologist.com/Article/2020/01/29/Coronavirus-impact-on-API-supply.
"India Reports 2nd Case of Novel Coronavirus: Kerala govt says awaiting results from NIV." The Economic Times, 2 Feb. 2020, economictimes.indiatimes.com/news/politics-and-nation/india-reports-second-case-of-novel-coronavirus/articleshow/73863406.cms.
"India's Production of Paracetamol, Top Antibiotics Could Be Hit by China Coronavirus Crisis." ThePrint, 30 Jan. 2020, theprint.in/health/indias-production-of-paracetamol-top-antibiotics-could-be-hit-by-china-coronavirus-crisis/356222/.
"Key Drug Ingredients, Electronic Parts May Run Short As Coronavirus Threatens Supply." The Indian Express, 30 Jan. 2020, indianexpress.com/article/business/key-drug-ingredients-electronic-parts-may-run-short-as-coronavirus-threatens-supply-6241795/.
"List of Wuhan Coronavirus Cases Worldwide." CNN, 3 Feb. 2020, edition.cnn.com/2020/01/29/asia/coronavirus-cases-worldwide-intl-hnk/index.html.
"W.H.O. Declares Global Emergency As Wuhan Coronavirus Spreads." The New York Times – Breaking News, 31 Jan. 2020, www.nytimes.com/2020/01/30/health/coronavirus-world-health-organization.html.
"WHO warns world to 'take action' over China virus." Yahoo, 29 Jan. 2020, www.yahoo.com/news/warns-world-action-over-china-virus-200842966.html.
Image Credit: Background photo created by kjpargeter – www.freepik.com