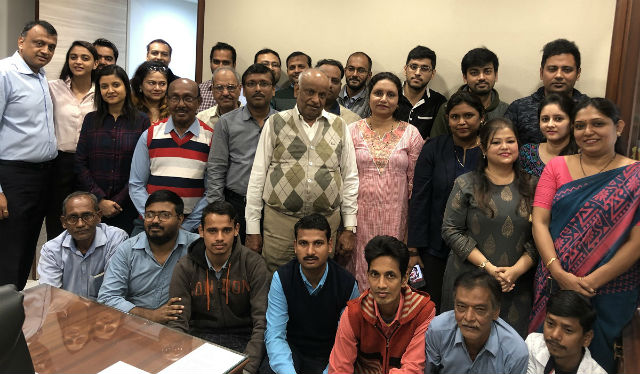 Last month, we celebrated 29 years of Anzen Exports.
JK Jajodia founded Anzen Exports on 19 December 1990. Employees affectionately know him as 'Papa' or 'Babu' not only because he steered the helm of the Anzen ship over 50 years ago, but also because he still takes important decisions at our Kolkata HQ.
How it all started
The Anzen story dates back to the fifties and sixties, when the founding fathers were shipping salt to various parts of India. During the seventies, JK Jajodia and his brothers were busy expanding the Bharat Salt Supply Company from Kolkata. In the late eighties and early nineties, Mr. Jajodia and his sons, Rajesh, Manish & Ashish Jajodia gave up salt shipping for trading in bulk drugs. While Mr. Jajodia and his son, Manish established Anzen Exports, the other two sons, Rajesh and Ashish, were busy expanding this business in Mumbai through Shubham Pharmachem.
29 years on..
The legacy of the founder continues to date. More members of the family have joined the business and they keep trying their best to retain the Anzen standard while expanding to different avenues. Today, apart from many new Active Pharmaceutical Ingredients (APIs), we also have a range of Natural Extracts and Nutraceutical Extracts, started by the initiative of Mrs. Minu Jajodia, Mr. Manish's wife. When Mrs. Jaya Jajodia, Mr. Rajesh's wife, joined the company, she brought with her the business of importing raw materials from China.
The three brothers, in the past few years, have expanded their reach from just raw materials to R&D, product development, packaging, and delivering the complete finished products to the clients. Under Mr. Rajesh's direction, we have also diversified and penetrated the African continent, especially with our group companies in Nigeria, Ghana and North Sudan. Today, we are also involved in PVC films packaging and warehousing with future expansion plans in Kenya and Algeria.
The Anzen Group of companies has gradually become a one-stop for all pharmaceutical and nutraceutical solutions.
The management has achieved this with new products, R&D, key partnerships, and contract manufacturing, improving the way of doing business for our local and global customers. Nevertheless, the most important characteristic of this company, which has helped the management achieve everything it has till date, is the fact that Anzen is a family business. Everyone that works here feels that they are a part of the Anzen family and you'll know why if you speak to anyone at Anzen.
The Anzen way
The Anzen family's belief in new and better ways of doing things extends beyond business. The Anzen Brand is not only associated with reliable healthcare to the world, but it also aims to improve the quality of living with natural products, research, development and new technology. The Anzen Group aims to grow hand in hand with its clients by providing them with exceptional solutions and adding new ones to the list every day.
Old is gold..
Anzen's Founder, JK Jajodia, continues his legacy by setting an example for everyone. He still reports to the office bright and early at 8:30 am!
As part of Founders' Day, we asked a few long-standing Anzen employees in our Kolkata HQ to share their thoughts. For instance, the accountant Nathmal Sharma, who everyone fondly calls 'Chachaji', joined over 50 years ago.
Kakali Ghosh Dastidar and Mahua Das are both amongst the oldest employees. They have been working and growing with us for the past 20 years. Kakali says, "I have been here since the beginning when there were only a handful of employees. This is a very organized and disciplined company, thanks to the work culture instilled by our founder". Mahua agrees with her: "I am the Export Manager now, but this was my first job. Manish Jajodia has patiently taught me everything I know".
This year on founder's day, we celebrated by cutting a cake and taking a group selfie of the ever increasing Anzen family.
Feel free to read what others are saying about Anzen Exports on its Google profile. Share our story on LinkedIn, Twitter or Facebook, using the hashtag#AnzenFoundersDay. You can also talk about your company founder's day story and post it using the hashtag #FoundersDay .