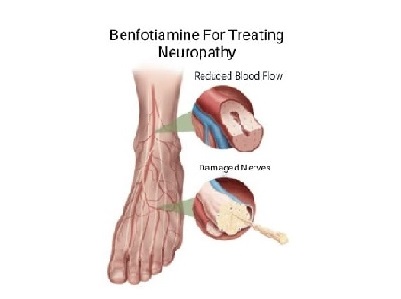 Benfotiamine is also known as thiamine, which is a lab-made version of fat soluble Vitamin B1. Neuropathy or dysfunction of nerves caused due to diabetes type 2 can be treated by Vitamin B1. If any individual declines to derive it from food then clinically Benfotiamine can be administered. In case the syndrome is not treated, it may lead to permanent damage to the nerve. (1)
Chemical Formulae – C19H23N4O6PS
Weight – 466.45mg
What is Benfotiamine?
S-benzoylthiamine O-monophosphate is a derivative of thiamine that prevents diabetic progression by enhancing its level in the tissues by trans-ketolaseactivity. The brain is precisely sensitive to deficiency of thiamine. This lipid soluble derivative has a higher bioavailability compared to its water soluble counterpart; therefore, it is effective on neuropathy pain treatment.(2)
What is Thiamine?
Vitamin B1 is synonyms to Thiamine that metabolizes energy and transits neuronal communication. It also activates the immune system. Reduction in thiamine level may result in: (3)
Impaired metabolism
Increase cellular oxidative stress
Neuronal problems
Natural sources of deriving Vitamin B are:
Fish
Seafood
Eggs
Toned dairy foods
Fortified cereals
Vegetables
What is Neuropathy?
Neuropathy refers to one or more impaired nerve cells or neurons. Some major neuropathy symptomsare muscle pain, tingling sensation, and numbness. It is noticed first in feet and palms; gradually it affects the whole body. Two types of the nervous system are: (4)
Peripheral – Sensory, motor, and autonomic nerves.
Central Nervous System – Nerves of the brain and spinal cord.
Diabetic neuropathy types are: (5)
Peripheral – It affects the nerves on extreme ends like legs, feet, and arms
Proximal – Effects nerves related to muscles in the foreleg, hip, and buttocks
Autonomic – Damages nerves related to homeostasis of the body and digestive system.
Focal –It affects nerves related to vision or the eye.
Diabetic Neuropathy is the outcome of biochemical dysfunction for high glucose concentration and accumulation of triose phosphates. Benfotiamine benefits are elaborate and derive the fastest result.
Cause of Neuropathy
Trauma
Autoimmune disorder
Prolonged medication
Vascular disorder
Low vitamin level
Hereditary disease (6)
Benfotiamine's Mechanism of Action
Benfotiamine uses are proactive on Advanced Glycation End Products (AGEs). Rather it modulates AGEs and acts through non-AGE pathways, like nuclear transcription factorkB, glycogen synthase kinase-3β (GSK-3β), and vascular endothelial growth factor receptor 2. It modulates cell survival, apoptosis, and repair process. (7)
Dosage
Benfotiamine dosage for nerve pain is 150-600mg for 3-6 weeks. Based on symptoms, the dosage changes. It is best to take a physician's advice before taking any medicine. Over-the-counter drugs can adversely affect health. (8)
BenfotiamineSide Effects
Nausea
Dizziness
Low blood pressure
Weight gain
Stomach upset (9)
Active Pharmaceutical Ingredients (API)
Anzen Exports is one of the leading API exporters of Benfotiamine to drug manufacturers across the globe. It enlists more than 20 categories of API related to the various stream of medicines.
Apart from that, Anzen also exports nutraceuticals and herbal extracts. Its group companies are associated with manufacturing and marketing nutraceutical products. For more information, one may check our product page or fill up an inquiry form.
Disclaimer:
Anzen Exports' blog posts are based just on our research from cited websites. To be best informed, we advise consulting a doctor about an ingredient or medicine prior to taking it.
Sources: