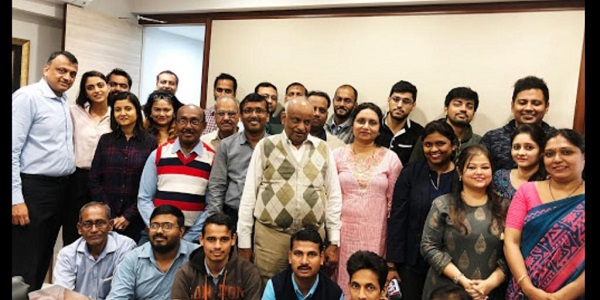 Anzen Exports Pvt Ltd. celebrates over three decades of relevance in the API industry. With lessons learned throughout its voyage, it renews its devotion towards serving its customers better. Having set its sights on new horizons, Anzen Exports offers a peek into its history.
Tracing the origins
Thirty years ago, JK Jajodia laid the foundation for Anzen Exports Pvt Ltd.  It has benefited from the experience built over decades of dedication. However, Anzen Exports was not the first endeavour the Jajodia Family has embarked on. Over 50 years ago, JK Jajodia and his brothers began shipping salt across parts of the country with humble origins.  Their primary focus was to expand Bharat Salt Supply Company in east India. Moving forward, Jajodia and his sons devoted all their efforts to shipping pharmaceutical drugs to replace their salt business. Their commitment to delivering high-quality active pharmaceutical ingredients thus took shape under the tutelage of Anzen's founder.
Anzen Exports: Vision and Purpose
The vision behind Anzen Exports is to improve the accessibility of healthcare by providing high-quality APIs, herbal extracts, and nutraceutical ingredients. It endeavours to enhance the development of APIs to valued customers globally. The APIs and related products are developed according to international standards and safety protocols. Anzen Exports has conducted export operations in over 70 countries globally, backed by research and techniques. It has established a vast network of clients and manufacturers, allowing it to thrive on meeting the customers' evolving needs.
Growth over the years
The Anzen Group has gradually become a one-stop destination for all pharmaceutical and nutraceutical solutions. But it has taken quite a journey to reach this milestone. Anzen Exports has grown from strength to strength due to the sincere contributions made by multiple family members. Mr Jijodia and his son Manish took care of the business in Kolkata. His other two sons took the responsibility to expand operations in Mumbai with the aegis of ShubhamPharmachem Pvt Ltd.
Under Mrs MinuJijodia, Anzen also introduced Natural Extracts and Nutraceutical Extracts in their wide range of products. Mrs Jaya Jijodia has helped the company expand its operations by introducing raw materials from China. The collective effort has boosted its growth, allowing it to branch out into extensive R&D, product development and packaging to deliver finished products to its clients.
Anzen has endeavoured to encapsulate the virtues of focusing on the needs of society at large. Its business models are built by the trust and support of its customers, which compelled the businesses to keep moving forward.
Anzen Exports has facilitated liaisons with bulk drug manufacturers across the nation to maintain the trust and support placed on its shoulders. With functional office spaces at critical locations, including Kolkata and Mumbai, Anzen Exports has straddled the country's expectations and bolstered itself with efficient infrastructure.
2021 Summary
Despite the global setback of the Covid-19 pandemic, Anzen Exports has proven to be resilient in the face of adversity. Under effective leadership, the company has grown from strength to strength and demonstrated dominance in the global API industry. It seeks to establish a strong presence in the LatAm markets.
Anzen Exports pays tribute to the dedication and loyalty demonstrated by Mrs. Mahua Das who passed away in April due to Covid-19. Mrs. Mahua Das was one of the oldest employees in Anzen Exports Pvt Ltd. Her passing was a devastating loss and for her endless devotion, the company expresses its gratitude.
Moving Forward
Anzen Exports' legacy continues, with the promise of attaining new heights. Jajodia Family has been relentless in its pursuit of new milestones. Anzen Exports has grown exponentially, with developments in Nigeria, Ghana and North Sudan, to name a few. It remains immensely involved in the research and development of better healthcare products. It aims to expand in new markets, notably in USA, Mexico and Columbia and emerging markets in the East.