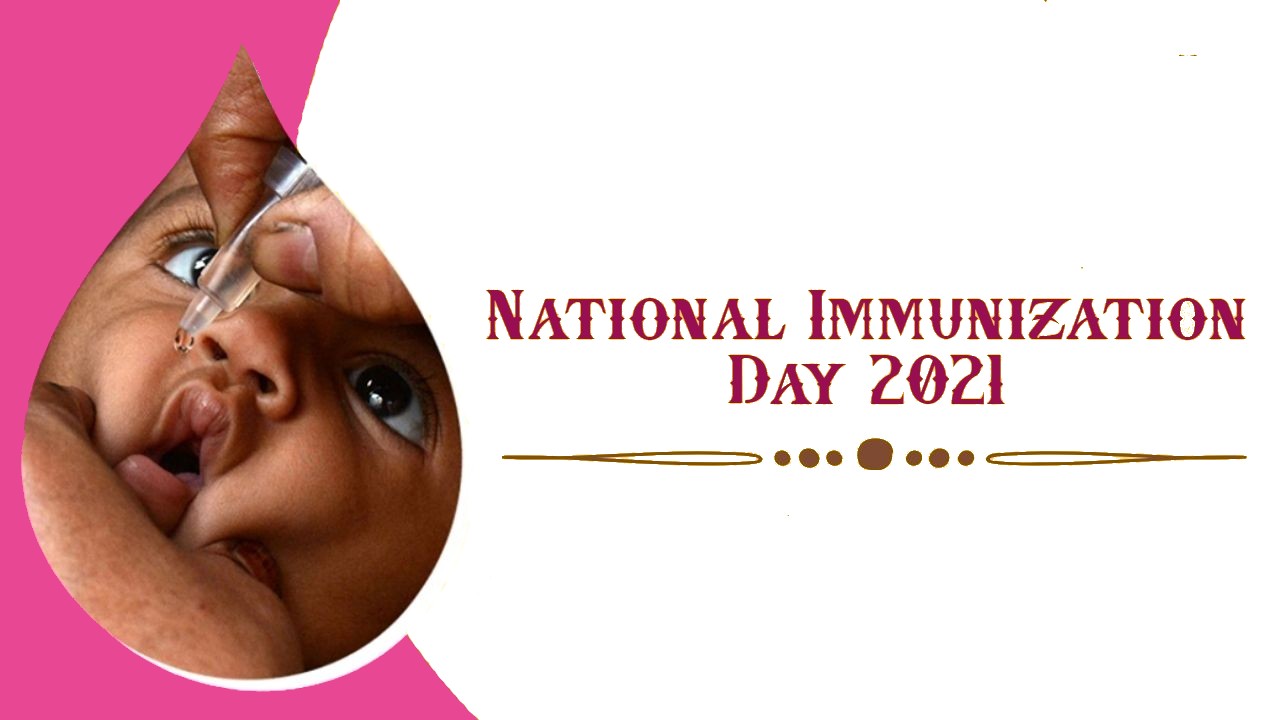 Mass polio vaccination to immunize all children against polio diseases is the objective of
National Immunization Day
. It is observed across developing and underdeveloped countries. The best way to celebrate this day is to spread awareness and reach out to each and every child below the age of five years with the required dose of the polio vaccine. (1)
History of National Immunization Day
The first Immunization Day was in 1995 with the first implementation of Oral Polio Vaccination. It is an attempt to eradicate polio from the earth. India had the last reported case of polio on 13th January 2011.
National Vaccination Day or National Immunization Day abbreviated as NID is under resolution since 1988 by World Health Organization. Gradually, through various delivery strategies, it is globally reinforced by the year 2000. In 1988, 89 countries adopted this campaign. Presently, 101 countries are under this strategic campaign. (2)
How Many Children are Vaccinated in India?
172 million children under five years of age got the pulse polio vaccine by 2.3 million vaccinators. 209 million houses are being visited in every village, town, and city of India under the strategy of NID. The entire program was under 1.55K  supervisors.
Many sub-national immunization days are organized across different states and villages to provide better care to polio prone zone with some underlying factors. The area with high density, higher enteric diseases, and poor sanitization are under special attention.
Under Child Health Programme many booth days or booth campaigns are organized in various areas to ensure that no children below 5 years are non-immunized against polio disease. (3)
What is Polio?
Poliomyelitis or polio is a life threatening ailment caused by a virus. It is contagious, i.e. transfers from one person to another. It infects the spinal cord of the infected person and causes paralysis of different body parts. (4)
How does it Transmit?
The polio virus stays inside the intestine and throat of the human being. It enters through the mouth and gets spread through droplets of sneeze or cough and faeces of the infected person. The polio virus lives for more than two weeks. It can even contaminate water and food. (5)
How Many Types of Polio Vaccine are there?
Polio vaccine is of two types:
Inactivated Poliovirus Vaccine – It is the primitive form of polio vaccine used mainly in the USA from the year 2000. This vaccine is injected into the arms or legs of the children based on age. 4 dosages are given at the age of 2 months, 4 months, 18 months, and 6 years.
Oral Poliovirus Vaccine – The mode of administration is two drops through the mouth. It is one of the most eminent version as is devoid of any vaccine derived poliovirus transmission risk.
How Many Doses of Poliovirus Doses are there?
Three doses of oral polio virus provide 99% immunity. Minimum two doses are must to take as it provides 90% of immunity and protection against polio virus. For the best result, one must take four doses.
Symptoms of Polio Disease
99% of polio patients are asymptomatic. However, some of the symptoms are similar to flu. Sore throat, stomach pain, nausea, headache, tiredness, etc. Some rare yet serious symptoms are:
Paraesthesia – Pin and needle pricking pain in the legs
Paralysis – Different body parts get affected, becomes weak, and unable to move
Meningitis – Infects the nervous system, spinal cord and brain
In some patients, polio virus can revive after 15 -40 years of recovery from the disease. Post-polio syndromes are:
Joint weakness and muscle
Muscle pain
Fatigue
Muscle atrophy
Depression
Memory loss (6)
How Many Types of Polio Diseases are there?
Non-paralytic polio
Polio with paralysis
Other Immunization Programme Laid by Government of India
Indian Government has scheduled some compulsory vaccination, which is available free of cost. These vaccines protect from:
Also Read – 12th Nov – World Pneumonia Day
Mission Indradhanush had been launched by the Indian Government in 2014 to strengthen the full immunization coverage for pregnant women and children. Vaccines for other diseases given under this plan are:
Hepatitis B
Meningitis
Japanese encephalitis (7)
Augmenting the Awareness
Anzen Exports is a trader and exporter of active pharmaceutical ingredients, herbal extracts, and nutraceutical extracts. We are dedicated round the clock to fight against diseases by keeping the consistent supply of active pharmaceutical ingredients to manufacturers of medicines.
Through our blog, we endeavour to reach people and update them on various diseases, precautions, medicines, and tips on living a healthy life with a healthy diet. Share our posts and comment on our blogs to enhance the awareness.
Disclaimer:
Anzen Exports' blog posts are based just on our research from cited websites. To be best informed, we advise consulting a doctor about an ingredient or medicine prior to taking it.
Sources:
Police Results
Website – https://www.policeresults.com/national-immunization-vaccination-day-theme-slogan-quotes-importance-images-observance-awareness-program/
World Health Organization
Website – https://www.who.int/bulletin/volumes/86/6/07-043638/en/
India Polio Learning Exchange
Website – https://iple.unicef.in/category/index/polio-immunization-campaigns-1
Centers for Disease Control and Prevention
Website – https://www.cdc.gov/polio/what-is-polio/index.htm
Centers for Disease Control and Prevention
Website – https://www.cdc.gov/polio/what-is-polio/index.htm
Healthline
Website – https://www.healthline.com/health/poliomyelitis#timeline