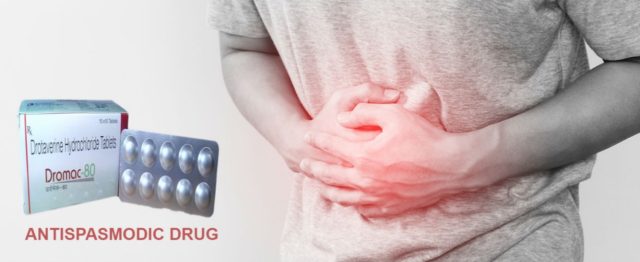 Drotaverine is a highly effective
anti-spasmodic
drug. This drug is generally used in alleviating pain in the renal colic or abdominal area, however, it is devoid of anticholinergic effects. It significantly decreases pain frequency and severity. Globally clinicians and patients approved Drotaverine HCL as better compared to drugs of a similar mechanism. (1)
INN is another name for this drug. It is structurally connected to papaverine and is an inhibitor of phosphodiesterase 4, which acts as a dose-dependent analgesic.
Chemical Formula – C24H31NO4
Weight – Average: 397.5072mg
Monoisotopic: 397.225308485 (2)
What is Spasm Pain?
Spasm pain is related to muscles. When one or more muscles make the involuntary movement or forcibly contract, but cannot relax then it results in spasm pain. It may be caused by stress, infection, inflammation or any blockage. It is often referred to as cramps. Antispasmodic tablets act only as a relief in this case.
Uses of Drotaverine
The antispasmodic uses of this drug are for:
Menstrual pain
Abdominal pain
Pain for kidney stone
Pain caused by a biliary stone
Gastro-intestinal colicky pain
Irritable bowel syndrome
Mechanism of Action
Drotaverine HCL dosage inhibits phosphodiesterase hydrolysing cAMP (Cyclic Adenosine Monophosphate), which in turn increases the concentration of the cAMP. This decreases the calcium (Ca) uptake capacity of the cell resulting in a change of distribution of Ca among the various cells.
This antispasmodic drug blocks the allosteric calcium channel up to a certain extent. It has a high bioavailability variable, i.e. maximum portion of the drug enters into the circulation system of the body and works effectively. With a hepatic metabolism, INN has a half-life of 7 to 12 hours. (3)
Side Effects
Some common side effects are:
Nausea
Vomiting
Vertigo
Dryness in mouth
Drop in blood pressure
Dizziness (4)
Contraindications
It is contraindicated in patients with:
Chronic heart disease
Liver problem
Kidney disease
Always share the health history with thedoctor before taking any medicine.
Dosage Details
Patients under 1-5 years may take 20mg Drotaverine Hydrochloridetablets 3 to 4 times daily. People between the ages of 6 – 12 years may take 40mg three times a day. 80mg is the maximum dosage that can be taken by a patient of any age above 12 years. Consult a doctor before taking any medicine. Avoid over-the-counter drugs or painkillers.
Active Pharmaceutical Ingredients
API is the active chemical substance that makes a drug functionally effective on the human body. Anzen Exports is an API exporter based in India. It exports API to 70 countries across the world. Throughout 29 years of operations, it has created a strong network with the finest API manufactures across India. It is dedicated to exporting quality products at competent pricing.
To inquire about Drotaverine HCL uses and availability one may connect with the sales team.
Disclaimer:
Anzen Exports' blog posts are based just on our research from cited websites. To be best informed, we advise consulting a doctor about an ingredient or medicine prior to taking it.
Sources: